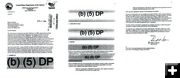 CENSORED

The BLM censored paragraphs containing opinions related to Visibility, Ground Water and Ozone so the public wouldn't know what the BLM said regarding their plans to resolve impacts to resources due to natural gas development on the Pinedale Anticline.



See Related Links below for a printable PDF version of this letter. (Requires Adobe Acrobat Reader to view.)


BLM covering up public health issues?
by Western Resource Advocates media release
July 7, 2008

A recently released letter reveals the BLM is attempting to censor how they resolved health concerns on a controversial plan that would dramatically expand drilling on the Pinedale Anticline gas field.

A final plan has been released, but now a public record for that decision is being deliberately hidden.

"BLMís been silently stonewalling our concerns and now they give us this done-deal final version rather than address the issues," said Susan Kramer, local resident of Pinedale.

The letter in question is a response from the BLM to the Environmental Protection Agency (EPA). Earlier this year, the EPA gave the Pinedale Anticline draft plan itís worst possible rating of EU-3, stating significant concerns with air visibility, ozone pollution, and groundwater contamination.

The BLMís response (to the EPA comments) was released to Lander-based Western Resources Advocates after a Freedom of Information Act request, but entire paragraphs have been blackened out under the topics of "Visibility," Groundwater" and "Ozone." These are glaring omissions that would have illuminated the process BLM used to resolve EPAís concerns.

"Citizens have a perfect right to this information," stated Dan Heilig, an attorney with Western resource Advocates. "They are the folks who will be most directly impacted by these questions of public health. The agency is improperly applying exemptions under the Freedom of Information Act to this letter."

In what language is free from censors, the BLM makes it clear they would not be following through with EPAís suggestions to release another revised draft plan with full opportunity for public comment. Rather BLM notes, all "appropriate measures" will be presented in the final plan.