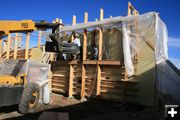 Lifting up the dirt

A front end loader lifts dirt up to workers, who shovel it out into the wall form frame. This photo, and the ones below, were taken on Wednesday, November 7th.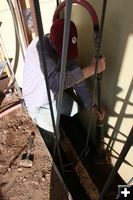 Power Ram

This is how the dirt is compacted inside the wall forms.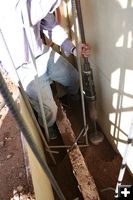 Ramming

The dirt is compacted using a power ram. Space is quite tight and cramped, making it important to watch the toes!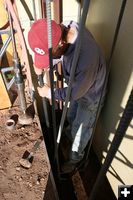 Manual Compactors

Workers must use manual compacting tools in places where the power ram can't be used.

Phase II Sublette County Library features Rammed Earth Walls
November 8, 2007
The new addition to the Sublette County Library in Pinedale is taking shape as construction is in progress. The architecture of this building features "rammed earth" walls as part of the building construction. This method involves ramming dirt into forms to create walls and buildings. It is a technique that is thousands of years old, used by builders in Asian, Middle Eastern and European civilizations.

As of Wednesday, November 7th, the concrete foundation is done and operations are now focused around filling the rammed earth wall frames with compacted dirt. Soon a big tent will go up over the construction area to keep heat in. Winter weather will soon be here and the dirt must be kept above freezing temperatures to remain workable.

Read on for a media release from SIREWALL Inc. and Terra Firma Builders, the company from Canada that is doing the construction, for more information about the library project.
____________________________________

A solid foundation for a growing community:
Phase II of the Sublette County Library features Rammed Earth Walls

By SIREWALL Inc. and Terra Firma Builders

A new addition to the Sublette County Library is taking shape. This newcomer is unique, but will blend right into its beautiful surroundings and stick around for generations to come. Phase II of the Library includes rammed earth wall features. The Library¡¦s SIREWALLS"_ƒn(Stabilized, Insulated, Rammed Earth walls) are a new global standard for healthy, energy efficient buildings that are beautiful legacies for future generations.

Rammed earth walls and buildings are ancient history. That¡¦s right ¡V thousands of years ago, builders in Asian, Middle Eastern and European civilizations were ramming earth into forms to create walls and buildings that have stood the test of time. Think the Great Wall of China, think castles and fortified homes, think temples and sacred spaces ¡V carefully constructed and connected to their surroundings largely using Rammed Earth.

Meror Krayenhoff, Founder of SIREWALL who resides in British Columbia, Canada, abandoned current building practices and took lessons from ancient civilizations to create SIREWALLS. Leveraging over thirty years of experience as a green builder, he intended to create buildings that nourish our bodies instead of polluting them, stand the test of time and create a timeless legacy for future generations.

The Library¡¦s Phase II rammed earth walls will have a visceral connection to the earth. SIREWALL buildings are constructed with a matrix of local soils strengthened with rebar and a small percentage of cement that surround a core of insulation. A typical SIREWALL is 18" to 24" thick, with 4" of rigid insulation hidden in the centre of the wall. Heating and cooling is efficient and there is little or no maintenance with SIREWALLS. Unlike most construction materials, SIREWALLS are nontoxic and do not require chemical sealants or treatments.

¡§We are excited to build the SIREWALLs for the Sublette County Library and work with the team of Carney Architects, Fixter Construction, and the Library Board. Whether our walls were selected for their classic beauty, environmental fit, healthy features, or acoustical properties, we plan to excel in every category. Nature is incredibly beautiful in Sublette County, and we aim to create some of the same in the built environment. We are grateful to all the wonderful people here who have welcomed us and helped us get started.¡¨ - Founder Meror Krayenhoff.

The SIREWALL System for construction is simple and has a low environmental impact: secured reusable forms, filled with damp earth are compacted to create stable walls that will last several lifetimes.

This adaptable system has been created so that qualified builders can apprentice with Meror, learn to build quality SIREWALLS and join an inspirational team that is planning to grow in Canada, the USA and around the globe.

In fact, if you share SIREWALL¡¦s passion for health, green building and the environment, the Sublette County Library project team is looking for contract laborers. Meror¡¦s team has an impressive track record, along with an award winning cultural centre that features North America¡¦s longest rammed earth wall.

The team is keen to work on this project in Pinedale. Says Project Leader Joss Krayenhoff on site: ¡§I am really enjoying the interest by the locals. We are having people stopping by daily, really excited, and wanting to look at the walls.¡¨ Sublette County will soon welcome a beautiful newcomer that will surely turn heads and become a focal point in the community.
____________________________________
Photos by Dawn Ballou, Pinedale Online!