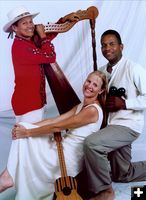 Los Llaneros

Photo courtesy Pinedale Fine Arts Council/Los Llaneros.


Los Llaneros to conduct two free workshops in Pinedale
Workshops Wednesday & Thursday, performance on Friday
by Pinedale Fine Arts Council
September 21, 2007

In addition to their evening performance on Friday, September 28th, visiting Columbian/Venezuelan folk trio Los Llaneros will hold two evening workshops free to the public on Sept. 26 and 27.

On Wednesday, Sept. 26, the group will hold a free acoustic workshop at the Pinedale Community Church (113 S. Maybell Ave.) beginning at 7:00 pm. Local musicians and music lovers are encouraged to attend the workshop which will focus on the band's unique form of music, in terms of its history and instrumentation. Feel free to bring your guitar, but don't feel obligated as mini-maracas will be provided for hands on learning.

On Thursday, Sept. 27, Los Llaneros will conduct a free workshop/lecture on diversity entitled "What Meets the Eye" in the Reading Room of the Sublette County Library in Pinedale at 6:00 pm. This workshop illustrates how to dispel the assumptions we make about others, and provides ideas on how to address diversity issues in schools, on campuses and in communities. The "What Meets the Eye" workshop is held in collaboration with the Sublette County Library's "Between Fences" Smithsonian exhibit.

Both workshops are presented by the Pinedale Fine Arts Council. For more information on Los Llaneros, please visit the PFAC website at www.pinedalefinearts.com or call 307-367-7322.