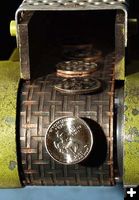 Wyoming Quarters

Wyoming quarters roll off the press at the Denver Mint on Monday, August 6, 2007 during the special strike ceremony held in honor of the coin's release. The official launch ceremony will be held in Cheyenne on Sept. 14.

Wyoming quarters being printed
500 million coins to be produced at the Denver Mint
August 7, 2007
Wyoming state officials and media representatives traveled to the Denver Mint for a ceremonial strike ceremony of the new Wyoming quarters on Monday, August 6. The quarters have been in production at the Denver Mint since early July, but have not yet been officially released.

Each person in attendance got to personally mint a shiny new quarter. But since the coins have not yet been released to the public, the quarters went back into envelopes that were watched over carefully by United States Mint employees and none were allowed to leave the building.

Half the expected 500 million coins will be produced at the Denver facility and the other half at the Philadelphia Mint. The final number will be available on the United States Mint web site once the production run is complete.

At the start of Monday's event, Milward Simpson, director of the Wyoming Department of State Parks and Cultural Resources, commented on his role as a member of the Wyoming Coinage Advisory Committee that helped select the design for the quarter.

"What was really fun and unique about it, I think, was the tremendous response that we received from Wyoming citizens when they had an opportunity to tell us what they felt should be on the state quarter," Simpson said. "We asked them to provide a narrative or a paragraph and share their ideas with us. Well, we had everything under the sun, and of all of the images that were recommended, each truly had an important part in representing the state. Obviously the famed bucking horse and rider image was the clear favorite, the overwhelming favorite - ten to one - in favor of that image over any other that was recommended including the great iconic images of Old Faithful and Devils Tower that are also so important and so closely identified with our state."

An official Wyoming Quarter launch ceremony will be held at the Cheyenne Civic Center at 10 a.m. on Sept. 14. Wyoming native and NBC Correspondent Pete Williams will be the emcee for the event, which will feature remarks from Gov. Dave Freudenthal, United States Mint Director Edmund C. Moy and other state and local officials.

For more information, visit www.artsparkshistory.com or call 307-777-7437.