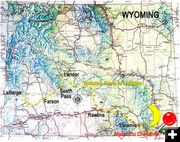 Moondance in HERE!

Friday, August 17: The Moondance Diner is HERE! Arrived in LaBarge around 8:30 PM Friday. Everyone is safe and sound. We'll update this report as soon as we can.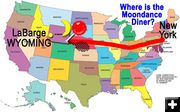 Where is the Moondance?

Friday, 10AM: Just passed through Cheyenne. Blew a drive belt on the big hill on Interstate 80. Have to return to Cheyenne for replacement. Once going again, they will stop in Laramie to greet well wishers and media. Shooting for a Saturday arrival in Wyoming.


Related Links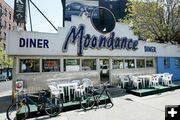 Moondance Diner

The Moondance Diner is moving from New York to its new home in LaBarge, Wyoming.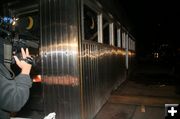 Press attention

Media was on hand filming as work crews readied the diner to be moved over to the truck on Friday night. Photo by Harold Treiber.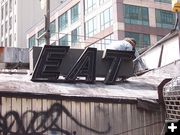 Eat

Photo by John Moore.


Moondance Diner Progress: The Moondance is HERE!
From New York to LaBarge, Wyoming
by Dawn Ballou, Pinedale Online!
Updated August 17, 2007 | Initial posting August 13, 2007

Scroll to the bottom of this page for more photos.

Updated Friday, August 17, 2007, 10:00 AM. For quick reference, this Moondance Diner progress page can also be accessed as www.MoondanceWyoming.com. Do you have a picture of the Moondance Diner on the road? Please send it to us! We'd love to post it! (Note to media: You are welcome to pull text, photos and the audio files from these stories for your own use. High resolution versions of photos available upon request. Please credit the appropriate source for anything you use. For more info, contact Dawn Ballou/Editor, Pinedale Online, cell: 307-360-7689, support@pinedaleonline.com.)

CONTINUING UPDATES FOR THE MOONDANCE DINER:

Friday, August 17, 9:00 PM Update: THE MOONDANCE IS HERE! The truck caravan arrived in LaBarge around 8:30 PM Friday evening. Everyone is safe and sound. The diner is parked for the night and the guys are reuniting with family and friends. They will be back at things early tomorrow morning (7 or 8-ish). We'll update with more info soon.

Friday, August 17, 6:30 PM Update: (From Cheryl) The guys called to check in. They are between Rawlins and Lander. Looks like they will come into LaBarge in the morning (Saturday).

Friday, August 17, 10:00 AM Update: The Moondance Diner is in Wyoming!! We've added more photos to show you what the town of LaBarge looks like - scroll down to the photo gallery section at the bottom of this page.

"It's like Christmas, and I can hardly wait!" said Moondance Diner co-owner, Cheryl Pierce, waiting for the Moondance to arrive in LaBarge. The Moondance Diner caravan is now just past Cheyenne, Wyoming, as of around 10:00 AM today (Friday morning).

They have had a bit of a glitch this morning. While climbing the big hill out of Cheyenne on Interstate 80, they blew a drive belt on the truck. So now they must turn around and go back into Cheyenne to get a replacement.

They had planned on arriving in Laramie around noon today, but those plans have now been delayed for probably a couple of hours.

There is a group of well-wishers and media waiting to greet them in Laramie, and they have been notified of the delay. They had plans to stop for lunch and meet with the well-wishers and do some interviews with media there.

After Laramie, the Moondance travelers will divert off Interstate 80 at Rawlins and head towards Lander. From Lander, they will go over South Pass to get to home territory of our Upper Green River Valley.

Earlier this morning, they thought there might be a chance they could make this last leg to arrive in LaBarge as soon as this evening, but with the broken drive belt delay and nightfall, it looks like the Saturday arrival is STILL the likely scenario.

Thursday, August 16, 11:30 PM Update: We didn't get an evening update, but we did hear that they were in Omaha, Nebraska around 1:30 PM today. The guys hoped to make it to Kimball, Nebraska by this evening. We haven't heard confirmation that they are this far, but for the sake of our progress map, we've placed them on the western edge of Nebraska, ready to enter into Wyoming.

Last we knew, they didn't yet have their permits for Wyoming, or the route they needed to take. They are still shooting for making it to Wyoming on Saturday. This last leg will require they veer off of Interstate 80 to avoid road construction around Rock Springs on the interstate. We're not sure where they will veer off, but ultimately they will be going over South Pass to Farson. From there we think they will come straight across until they connect with US 189, then up to LaBarge. Almost to the Moondance Diner's new home!

We went to LaBarge today and took a bunch of new photos of the town. We'll be working on posting those to our sublette.com community website, as well as some here. Check out the links at the bottom of this page for more LaBarge business contacts.

On another side note, this Saturday happens to be the date of LaBarge's annual DoLittle Car Show. All types of vehicles are welcome. The event is sponsored by the Eagle Bar. Time is Noon until 4 PM. Car owners must register before noon at the Eable Bar. Awards between 4 to 5 PM. There will be food available during the day. The Eagle Bar will have live music on Saturday starting at 8 PM with a band from Salt Lake City. Music and dancing and all-day fun in LaBarge!

Wednesday, August 15, 9:30 PM Update: (Report from Cheryl Pierce): The Moondance Travelers made it to Walcott, Iowa today. Walcott is just inside the Iowa state line after crossing the Mississippi River from Illinois. They got back on Interstate 80 and are spending the night at the biggest truck stop in America. They hope to travel through Iowa tomorrow and make it to Nebraska. Things went smoothly today. They are still shooting for making it to Wyoming on Saturday.

For those following our travel diary, Iowa is our 29th state, also known as the "Hawkeye State", or "Tall Corn State". The primary industry is agriculture. The Moondance transportation crew will be traveling through gently rolling plains and rich farmland growing corn and other crops. Iowa gets an average of 37 tornadoes per year. It has the 3rd largest wind power economy, after California and Texas.

Welcoming the Moondance to Wyoming
There is a growing group of people who would like to help welcome the Moondance Diner as it comes through Wyoming. For anyone who would like to help be a part of this, an effort is being coordinated by Pennie and Gary Espeland in Laramie. (The Espelands own the Brick Bed and Breakfast. Pennie is the sister of our Sublette County Sheriff, Bardy Bardin.) They plan to have a banner made and want to do something to show their support for the spirit and fun the Moondance is bringing to Wyoming. They plan to do something in Laramie as the Moondance travels through there, and hope people in other places will do something in their areas. "It is our hope that others in Wyoming will gather along the selected route and welcome the Diner as it passes through their communities," Pennie said. Anyone who would like more information about the Welcome the Moondance Diner to Wyoming plans may contact Pennie Bardin Espeland at 1-800-788-4626 or 307-745-4390, wyowoman2000@aol.com

Tuesday, August 14, 8:30 PM Update: (Report from Cheryl and Kent) The guys have stopped for the day and are in Ohio, about 30 miles from the Indiana border. They are spending the night in Beaverdam, a town of about 350 (2000 census) in northwest Ohio. They have had to divert on and off Interstate 80 to avoid low overpasses. Their height is about 15 feet, which won't fit under some overpasses, so they need to route around those places. They will continue on Highway 30 for a ways once they get going again.

They had a bit of trouble with permits today (Tuesday). Someone was supposed to get them permits for the next three states, Indiana, Iowa and Illinois, but only sent them Iowa and Illinois. No permit for Indiana. This creates a bit of a problem because Indiana is the next state they have to go through. So they have to wait for the fax with the Indiana permit before they can cross the state line.

We spoke with Kent Profit by phone this evening (Cheryl's father and Vince's father-in-law). He said, "Everything is going fine, except the permits. We have Illinois and Iowa, but no Indiana." Cheryl joked about this reminding her of the cow that jumped over the moon. "But the Moondance Diner can't jump over the state of Indiana," she said, "so they have to wait for the permit."

The permit delays have set them back a few hours. Cheryl said they are still hoping for a Friday arrival into Wyoming, but the way things are going, "It will probably be Saturday."

Moondance Diner update, Tuesday, August 14 Audio File KPIN 101.1 FM Pinedale Radio (584K mp3) By Bob Rule

Monday, August 13 Update: (Report from Cheryl) The Moondance transport crew made some progress today (Monday). They were stuck at the New Jersey/Pennsylvania state line until about 3:00 PM working on getting the permits they needed to cross the next several states. Vince and Kent now have the permits they need to travel through Ohio, Illinois and Indiana so they won't have to wait again, on permits anyway. They finally got going and made it across most of Pennsylvania, almost to the Ohio border, before having to stop due to darkness. They have to exit the interstate to go around any locations where there are overpasses which they are too short for them to make it under. This slows down their time as they find alternate bypass routes through side roads to get back onto the Interstate. Right now, they are going through Amish country. At one point today, they were surprised to come over a hill to find a woman in a horse and buggy stopped in the middle of the road. They did not run over her.

Night photos by Harold Treiber, taken Friday night between 9:30 PM and 1:30 AM, jacking up the diner in preparation for being lifted and moved over onto the transport truck.

Sunday, August 12 Update: The Moondance was loaded onto the semi-truck on Friday and the truck headed out early Saturday morning on Interstate 80 to begin the return trip to Wyoming. The guys made it as far as the New Jersey-Pennsylvania border, where they had to stop on Saturday afternoon. Pennsylvania has a law that prohibits wide loads from moving through the state on weekends. They have to wait at a truck stop at the state line until Monday morning when they can resume their journey. Pilot cars with flashing lights are traveling with them both in front and behind the load the entire trip.
KPIN 101.1 FM Pinedale Radio news story of Sunday update By Bob Rule (371K)

Background
Vince and Cheryl Pierce, a couple from LaBarge, bought the diner after reading about its plight on the American Diner Museum website. New owners who bought the property where the diner was located wanted to demolish it to make way for residential condominiums. The owners were approached by people who wanted a chance to save the diner, so they donated it to the Museum and gave them until August 1st to sell or move it or it would be demolished. The diner closed on July 1st. The Pierces had been looking for a restaurant opportunity, so they flew to New York to take a look at the diner and decided to purchase it. Moving it didn't seem too difficult a challenge since Vince and Cheryl's father, Kent Profit of KP Trucking, drive water tanker semi-trucks servicing the oil and gas fields around the LaBarge and Big Piney areas. So they are very used to hauling large loads over large distances. Cheryl's father owns his own truck and a friend loaned the trailer. They figured the two men would drive to Manhattan, load the diner up, hit I-80, head west, and be back in about a week to drop it off at its new home. Things didn't go quite as quickly as planned, however. The two men left the weekend of August 4th expecting to be back the following weekend, but a series of delays have them just starting the return trip as of this weekend, expected to arrive next weekend.

The diner was supposed to be on its way on Tuesday, August 7, but things were brought to a standstill on Tuesday when the New York City Buildings Department said they would not issue the permit to move the diner until they received "clarification" from Vince & Cheryl on their plans to move the diner and demolish the foundation. That delay ate up two days until the inspector and Building's Department were satisfied.

On Wednesday, August 8, torrential overnight rains and a tornado in New York again delayed plans to move the diner onto the truck. The rains flooded rail lines, subways and streets, causing traffic to come to a crawl. The storm brought wind which uprooted trees and created quite a mess. Rain ultimately gave way to sunshine by afternoon.

The Pierces have already purchased land in "downtown" LaBarge where the Moondance Diner will ultimately be located for its new home. Once in place, there will be some renovations over the next couple of months. The Pierces still need to do earth moving on the lot and pour the foundation for the building. Once on the foundation, they have more work to do on the interior.

Cheryl's flat tire and the man from New York who helped her
We have to admit we are lucky to have a bit of an inside advantage on the Moondance Diner saga. Cheryl is a cousin of Clint Gilchrist, co-owner of Pinedale Online. It so happened that Cheryl called this afternoon (Sunday) to say she and her two kids were stranded on Highway 189 between Daniel and Big Piney due to a flat tire, just south of the Cottonwood turn-off as she was headed back to LaBarge. She had pulled off to the side of the road and was there with her 4-year old daughter and 7-year old son trying to figure out how to get the spare tire to drop down on her SUV. (Now understand that Cheryl is a very capable Wyoming woman, but she has never had a flat tire on this particular truck before and so has never had to change the tire on it, and it was different from any other vehicle she has ever had.) Her cell phone didn't get reception in that particular spot, so she couldn't reach any of the relatives in nearby Big Piney for help.

About 15-20 cars passed by, then a black Hummer drove by from the other direction, headed north. The Hummer traveled up the road a bit then turned around and came back, pulled over and the man driving asked her if she needed any help. His vehicle had Utah plates on it. She gladly accepted his help. After struggling with it for awhile, neither of them could figure out how to get the spare tire to drop down. He asked about contacting her husband and Cheryl replied her cell phone wasn't getting reception to call relatives and her husband was in New York, so he couldn't help. At that, the man told her that he is from upstate New York. The Hummer with the Utah plates was a rental vehicle. Cheryl told him that Vince was bringing back a diner for her from there, and he said he had heard about the story of the Moondance They laughed about the chances of all the people passing by on the highway, that the person who ended up stopping to help them would be from New York! He offered to give the three a ride to someone who could help, so she asked him to take them over to Clint's ranch near Big Piney, not far away. The man dropped them off and then left and continued on his journey. Cheryl thought he said his name was Mike Maroney, but she wasn't positive. (Thanks Mike!)

We loaded Cheryl and the kids up and drove back up to where Cheryl's car was stranded on the highway. While on the way, we clipped a microphone onto Cheryl's shirt, turned on the digital recorder, and asked a bunch of questions about the progress on the Moondance Diner move, hence getting an impromptu interview during the time of the ride back to her truck. Clint changed the flat tire and got her and the kids back on their way to LaBarge. Listen to Cheryl tell the flat tire story (1169K mp3 file)

Daytime photos courtesy of John Moore from Virginia, cousin to Vince & Cheryl Pierce.

Status of the Moondance Diner as of Sunday, August 12:
Sunday, August 12, 2007 (1943K)

Related Links:
Moondance Diner Rides Off Into The Sunset (WCBSTV, August 11, 2007) Includes a brief interview with Vince
LaBarge couple getting attention with Moondance (By Kay Murphy Fatheree, Kemmerer Gazette, 8/9/07)
Former Moondance Diner Site Sold in $33.5 M Deal (New York Observer, by Mark Wellborn, 8/9/07)
Moondance on the Move (Casper Star-Tribune, by Jeff Gearino, 8/8/07)

To Find This New York Diner, Head To Wyoming (New York Sun, by Gary Shapiro, 8/1/07)
Moondance Diner moving to LaBarge, Wyoming (Pinedale Online!, 7/31/07)
General information about LaBarge, Wyoming
LaBarge area real estate Wyoming Real Estate Source (Real Estate Agency)
LaBarge Realty LaBarge area real estate and town information