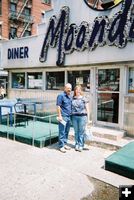 Moondance Diner

Vince and Cheryl Pierce in front of the Moondance Diner in New York. They purchased the diner in late July and plan to move it to LaBarge, Wyoming. Photo courtesy Cheryl and Vince Pierce.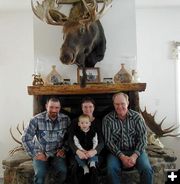 Pierce Family

Vince and Cheryl Pierce, with their son Mathiew, and Cheryl's father, Kent Profit. Vince and Kent, both truck drivers, will help drive the Moondance back from New York to Wyoming. Photo courtesy Triple Peak.


Moondance Diner moving to LaBarge, Wyoming
Famous diner setting for movies, commercials and TV shows
by Pinedale Online!
July 31, 2007

Latest Updates: Where is the Moondance Diner?

A LaBarge couple has purchased the famous Moondance Diner in New York and plans to move the 80-year old diner to Wyoming and set it up as a restaurant in LaBarge, approximately 20 miles south of Big Piney on the Sublette-Sweetwater County border.

The couple, Vince and Cheryl Pierce, purchased the diner last week and are in the process of obtaining the necessary permits to move it to Wyoming next week. They hope to have the diner in LaBarge by mid-August.

The diner is located at 80 Sixth Ave at Grand Street in Manhattan. It seats approximately 34 people with 10 counter stools and 6 tables for 24 customers. The sale price was listed at $7,500 on the American Diner Museum website, which championed the mission to save the diner from destruction. Advertising for the diner stated the Buyer would be responsible for all rigging and transportation costs, and it had to be relocated before August 1.

The Pierce family had hoped to keep the news of the purchase somewhat quiet to avoid public attention that might complicate the move, however word has gotten out on both ends of the continent and the story has already received tremendous media attention in New York and Wyoming.

The famous Moondance Diner in New York City has appeared in television episodes, commercials and movies, including the 2002 Spiderman movie. A developer purchased the property where the diner is located in Manhattan and plans to put in luxury residential condominiums.

An interesting side-note to this story is that Cheryl's great-great-great-grandparents homesteaded the land where the town of LaBarge is now located. The family came to the area after a wagon trip from Denver, Colorado, in 1912. They did not have time to build a cabin that first winter before the snow set in, so the family spent a Wyoming winter in a dugout they carved in the bank near the Green River. The diner will be located on some of the same land her ancestors were the first ones to own as homesteaders in the LaBarge area 95 years ago.




Related Links