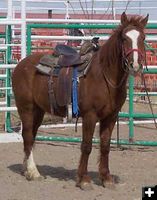 Wild Horse

One of the wild horses up for adoption. BLM courtesy photo


Wild Horse Adoption May 11-12 in Riverton
by Bureau of Land Management
April 20, 2007

The Wyoming Bureau of Land Management and the Wyoming Honor Farm will host a wild horse adoption on May 11 and 12 in Riverton, Wyoming.

The adoption will begin at 10 a.m. on Saturday, May 12 with a lunch concession available. The gates will open at 7:30 a.m. for previewing the horses. The adoption will offer 60 horses in a variety of colors and four burros. All the horses have been haltered, led, trailered and have had their feet handled. Approximately 50 horses have been saddled and/or ridden.

On Friday, May 11, Mike Buchanan, the wild horse supervisor at the Honor Farm, will demonstrate a free clinic discussing the Honor Farm's level system, horse handling and trailer loading. The clinic runs from 1-3:30 p.m. and is open to the public. A preview of the horses will be open after the demonstration and will conclude at 4 p.m.

Please remember, no firearms, alcohol, drugs or dogs are allowed at any time. All cell phones, cameras, video equipment and tobacco products must be locked in one's vehicle but CANNOT be on person while on site. A horse trailer must be at least a four-horse trailer with a swing gate and covered top.

Wild horses are also available for adoption by appointment through the BLM Rock Springs Corrals and the Mantle Ranch.

For an early look at the potential horses or for further information, visit http://doc.state.wy.us/prisons/horse_adoption.asp or http://www.blm.gov/wy/st/en/programs/Wild_Horses.2.html, or call 1-866-4-MUSTANGS.