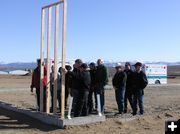 Symbolic Wall

Representatives from government, industry and EMS attend the ceremony to pound in the symbolic first nail of the ambulance barn.


Sand Draw Rescue Center Open House
'It will save lives,' said Governor Freudenthal
by Dawn Ballou, Pinedale Online!
April 4, 2007

An Open House was held on Tuesday, April 3rd, to celebrate the new Sand Draw Rescue Center. The event was attended by Wyoming Governor Dave Freudenthal, the Sublette County Commissioners, members of the oil and gas industry, and representatives from Sublette County EMS ambulance from Pinedale and Big Piney.

While the event was mostly symbolic, since the building itself is still just in the foundation stage, it represented a great step in cooperation between all the players involved in the huge natural gas boom in Sublette County.

The new rescue center is strategically located near the Pinedale Anticline and Jonah Gas Fields, and will significantly cut down travel and transport time for emergency crews to reach accident victims in that area.

The new facilitiy is a cooperative effort between Shell, Ultra, BP, EnCana energy companies, with additional funding from the Sublette County Commissioners and the State of Wyoming. The ambulance barn is expected to be completed by early summer. Additional buildings will be erected on the site over time to support the facility.

The Governor praised everyone who was involved in making the new rescue center a reality. "It will save lives," he said.

Photos by Dawn Ballou, Pinedale Online!




Related Links