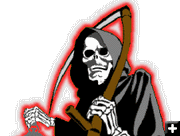 Grim Reaper

Graphic courtesy 'Every 15 Minutes' program.



Gifts to the Every 15 Minutes program may be made to:

National Every 15 Minutes Foundation
(Non-Profit)
P.O. Box 20034
Lehigh Valley, Pennsylvania 18002-0034

For more information about the program, call:
610-253-3546 or
610-814-6418



Scroll down for more photos


Pinedale High School Drunk Driving Awareness
by Pam McCulloch, Pinedale Online!
April 23, 2007

On Thursday and Friday, April 19th and 20th, the Sublette County Emergency Medical Services, the Sublette County Sheriff's Office, and the Pinedale Volunteer Fire Department sponsored an event for Pinedale High School students, focusing on teen awareness of alcohol-related accidents.

The program, entitled "Every 15 Minutes", is based on the fact that every fifteen minutes, someone in the United States is killed by a driver under the influence. Pinedale EMT Gwen Hill organized the exercise in Pinedale.

Click on this link for photos and story about Thursday's events: Every 15 Minutes (26 photos)

On Friday, the entire Pinedale High School student body attended a mock funeral service at the Pinedale Auditorium for their friends. A coffin was placed center stage (students had picked out the coffin from Colvill Funeral Home on Thursday as part of that day's exercises).

Most parents whose children had "died" attended the funeral. Mourning friends and family came in and laid a rose on the coffin. A few of the students, and one parent, read good-bye letter. After the funeral, the students were reunited with their families. This was a very emotional time for both the students and their families.

The students were encouraged to sign a pledge to make a stand against drunk driving.

After the funeral the entire student body was bused out to the Sublette County District #1 bus barn on the west end of Pinedale. They were served lunch while the Sublette County EMS prepared for the mock crash demonstration. Vehicles were 'crashed' the night before and placed at the scene in preparation for the demonstration Troy's Motorsports and Performance Tech of Pinedale each donated a vehicle.

The students were brought in and Sublette County Emergency Medical Services, the Sublette County Sheriff's Office, the Pinedale Volunteer Fire Department, and Colvill Funeral Home all recreated an actual rescue scene.

This entire program preceded this Saturday's high school prom and hopefully had an impact on the students. Many members of the community spent months preparing for this exercise and donated many hours of time to make this a powerful two days.

The Sublette County EMS would like to extend a special thank you to:
Sublette County Sheriff's Office
Deputy Joe Ahlstrom
Sublette County EMS-Big Piney
Sublette County School District #1
Pinedale High School Principal Richard Kennedy
School Office Staff: Carolyn Elliott and Cassie Essington
Pinedale Librarian: Nancy McGuire
Grim Reapers
Curt Covill of Covill Funeral Home, Pinedale
John LaBuda
The Parents of participating "selected students"
Pinedale Volunteer Fire Department
S.A.D.D. participants and Mrs. Hallum, advisor
Barb Wise and Frank Roncalio
Gwen Hill for dreaming that we could do this!
Gwen Hill's Dad, Mr. John Carrillo
Wendy Reynolds
Vickie Higgins and Tina Mulinix
Julie Belton
Dayle Read-Hudson and Sarah Hixson
Tom Noble
Troy Bredthauer, Troy's Motorsports
The Wrangler Booster Club
Kelli Harrower
Ryan Persinger at Performance Tech, Pinedale
Eiden's Towing, Marbleton
Frank James, Sublette County Fairgrounds
Billie Wilson, from the Wyoming Air National Guard
Ken Plum, from the Wyoming Army National Guard
AmeriHost Inn of Pinedale
Best Western Pinedale Inn
The Families of Sublette County EMS - Pinedale EMTs for their patience and commitment to this program.

Photos by Pam McCulloch. Kris Bacheller, Dawn Ballou and Pam McCulloch all contributed to this story.