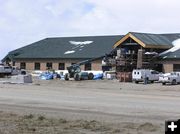 Stromness Building

The BLM and Natural Resources Conservation District will be located in the new Stromness Building.


Pinedale BLM to move into new offices mid-May
Closed May 7-14
by Bureau of Land Management
April 20, 2007

The Bureau of Land Management (BLM) in Pinedale will close its East Mill Street location the week of May 7th to relocate into their new location on the west side of Pinedale.

The office will be open March 14th at the new location with limited ability and expects to be fully operational by the 15th. The new location will be at 1625 West Pine Street in Pinedale.

The Rock Springs BLM will receive emergency calls for the Pinedale BLM during the week of May 7-14. "The Pinedale BLM phone and computer systems will down during that week as they move the office from one location to the other," said Dennis Stenger, Pinedale BLM field manager.

"We are asking for anyone needing to conduct business with the Pinedale BLM office to make arrangements before May 7 or after May 15. If an emergency arises, contact the Rock Springs BLM and speak to employee at (307) 352-0256 from 7:45 a.m. to 4:30 p.m. weekdays. If it's after hours or on weekends, call the same number and leave a message," said Rey Adame, Pinedale BLM public affairs officer.

While the Pinedale BLM anticipates being functional on May 15th, there will be continued work to the parking area and landscaping through the summer. The BLM expects to have an open house later on this summer. "We will make this transition as smooth as possible. We appreciate the public's patience and support," Stenger added.

For more information, contact Rey Adame in the Pinedale BLM office at (307) 367-5349.