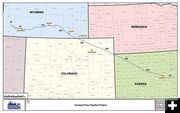 Overland Pipeline Map

Overland Pipeline map. Graphic by Natural Resources Group Inc. (If you found this page because you are looking for a job on the Overland Pass Pipeline project, click on this link to go to the ONEOK website, the company doing most of the work on this project: www.oneok.com, and click on their link to Careers for their current job openings in the various states.)


Overland Pass Natural Gas Pipeline DEIS ready
760-mile Pipeline will carry natural gas from Wyoming to Kansas
by Bureau of Land Management
April 2, 2007

The Bureau of Land Management (BLM) Rawlins Field Office has issued a Notice of Availability for the Draft Environmental Impact Statement (DEIS) for the Overland Pass Natural Gas Liquids (NGL) Pipeline. A 45-day public comment period will begin today, March 30, through May 14, 2007.

The 760-mile-long, pipeline would carry NGLs from a gas plant located at Opal, Wyo., to storage fields and a process facility in Conway, Kan. NGLs are hydrocarbon liquids that are associated with the production and processing of natural gas, including ethane, propane and butane. At capacity, the pipeline would transport up to 150,000 barrels per day of NGLs.

Overland Pass project proposes to construct the new pipeline crossing nearly 125 miles of federal lands, and over 600 miles of the pipeline would cross private lands. Approximately 83 percent of the total length of the pipeline would be buried adjacent to existing underground pipeline systems.

The DEIS analyzes the possible impacts of the proposed plan, such as air quality, wildlife, reclamation, grazing, socioeconomic resources and cultural resources.

The DEIS is available for review on the BLM website at: www.blm.gov/wy/st/en/info/NEPA/rfodocs/overland_pipeline.html. The document is also offered at the Rawlins, Rock Springs, and Kemmerer BLM Field Offices.

For more information, please call Tom Hurshman at (970) 240-5345, or e-mail Overland_Pipeline_WY@blm.gov.