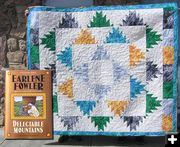 Quilt and autographed book

Lynda Houfek made this lap-size quilt based on the book, "Delectable Mountains", by Earlene Fowler. The quilt will be in the silent auction at the quilt show, along with an autographed copy of Fowler's book.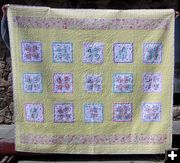 Yellow Gingham Quilt

This Queen-size quilt was put together by the efforts of Bendi Hintz Poindexter, Whitney Holman, Irene Steele and Lynda Houfek. It will be in the MS Quilt Show.

Fight Against MS Quilt Show May 11-12
April 4, 2007
The Third Annual Fight Against Multiple Sclerosis Quilt Show will be held May 11-12, 2007. The Quilt Show and Silent Auction will be held in the Big Piney High School annex, located at 650 Piney Drive. The show will be open 4-7:00 pm on Friday, May 11th. Beginning at 7:00 pm, there will be a Dessert Bar at the Senior Citizen Center, 111 Rakestraw Avenue in Marbleton. Charge for the Dessert Bar will be $7.00 per person. The variety of dessert choices will be amazing! You won't want to miss this event. Tickets are available from Lynda Houfek or at the door.

Saturday, May 12 the Quilt Show will open 10:00 am – 4:00 pm. There will be quilts for display, some items for sale and the famous silent auction. Some of the items offered in the Silent Auction this year include an autographed book written by Earlene Fowler. Ms. Fowler, a best selling Agatha-award author, has a series of mysteries. She currently resides in California. "I got hooked on her books," said Houfek. "Each book has a quilt block pattern in the title."

"Last summer I contacted Ms. Fowler to see if she was a quilter and would be interested in displaying at the Multiple Sclerosis (MS) fundraiser or be willing to donate one of her books for the silent auction. She responded immediately saying that she would gladly donate a signed copy of one of her books. She told me that it must be karma because she had just submitted a draft of her next book to her publisher. In that book her main character is dealing with a diagnosis of multiple sclerosis of a family member. Ms. Fowler told me the name of the book she was sending, -- "Delectable Mountains." I made a lap size quilt of the same pattern that will be included in the silent auction with her book," Houfek said.

"Last year, there was an unfinished twin bed size quilt top donated by Bendi Hintz Poindexter. The technique used for the blocks was fabric painting. Whitney Holman was the successful bidder of the quilt top in the 2006 silent auction. I offered to finish the top for her. She told me the size and colors she wanted. The top was extended to queen bed size. Irene Steele did the machine quilting. The finished yellow gingham quilt was re-donated to the show this year. It is truly a group effort from the four of us (Bendi, Whitney, Irene, Lynda) with each of us donating our portion of the finished project. And it is beautiful!"

MS is a chronic, unpredictable, and often disabling disease that affects the central nervous system. "I was diagnosed several years ago," Houfek said. "As my condition has progressed it became more important to me to be involved with fundraising for this cause. In the previous two years of the Quilt Show, all of the money raised has been donated to the National Multiple Sclerosis Society. Because of the success of this event, the state chapter allows me to decide how the money is spread: 60% to research and 40% to home health care needs for the ones of us living in Wyoming that are afflicted."

There is a nominal entry fee to exhibit items in the quilt show. In addition, there will be some MS items – wristbands and stuffed animals for sale. Free will donations are accepted at the show. Anyone interested in an entry form and rules for the show, please contact Lynda Houfek, P.O. Box 766, Big Piney, WY 83113 or call (307) 276-5318.