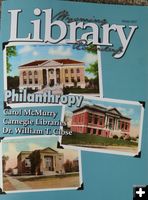 Roundup magazine cover

This is the Winter 2007 issue of Wyoming Library Roundup, published by the Wyoming Library Association and the Wyoming State Library.


Doc Close interviewed
by Cat Urbigkit
April 6, 2007

The current issue of Wyoming Library Roundup includes a feature article on Dr. William Close of Big Piney. The article provides a look at his career, courtship with Tine, family life, and best of all, capture's the essence of Doc Close in a few short pages.

Case in point, this quote: "I've always thought that the best way of preachin is to do something constructive, and knock off the moralizing." That's typical Close. The article explains some of the background for Close's new book, "Beyond the Storm."