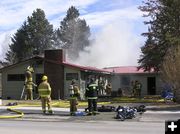 Pinedale House Fire

The fire occurred in a home located at 367 N Tyler in Pinedale. The ccause of the blaze was undetermined at the time of this report.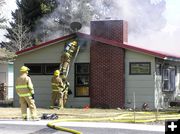 Attic

The fire spread into the attic of the home.


Pinedale House Fire
Blaze hits home at 367 N Tyler Ave
by Pinedale Online!
March 23, 2007

A fire broke out at a residence in Pinedale around 11 o'clock Friday morning. The fire was at a single-family home located at 367 N Tyler Avenue, second house down from the intersection of Tyler and Hennick Street on the east side of the street, just south of the Pinedale High School.

Firefighters from Pinedale, Boulder, Daniel, Bondurant, Kendall and Big Piney/Marbleton Volunteer Fire Departments responded to the call, along with Pinedale Emergency Medical Services (EMS ambulance), Sublette County Sheriff's Office and Sublette County Emergency Management.

Flames and smoke came through the roof and sent a column of dark smoke into the air. The smoke set off the fire alarm at the nearby Pinedale High School. Fortunately students were out for spring break. Neither house on either side of the residence was damaged. The fire was controlled a little after 1:30 PM.

During the investigation, firefighters found a false ceiling, which at one time appeared to be the roof. This is apparently where the fire became established and is one reason this fire required additional firefighters. "This type of structure has the potential to cause a flashover or smoke explosion inside the building due to the buildup up of oxygen-deprived, super-heated gas and smoke that is trapped waiting to find an oxygen supply, which is deadly to firefighters working inside the structure," explained T.J. Hunt, Sublette County Fire Warden. This was a safety issue to firefighters and took time to gain access to that area of the structure.

No one was injured due to the blaze. The nature of the fire is still under investigation by the State Fire Marshall's Office and the County Fire Warden. No cause for the fire or estimate of damage was available at the time of this report.

Photos and story by Dawn Ballou, Pinedale Online!