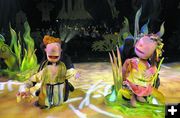 Hansel & Gretel

Theatre Sans Fil production of "Hansel and Gretel". Photo courtesy PFAC.


Theatre Sans Fil, Hansel and Gretel, Feb 21
Giant puppets, opera and much, much more!
by Pinedale Fine Arts Council
February 6, 2007

The Pinedale Fine Arts Council is proud to present the Theatre Sans Fil production of "Hansel and Gretel", Wednesday, February 21 at 7:30 pm in the Pinedale High School Auditorium.

Canadian based Theatre Sans Fil will be performing the children's opera version of Hansel and Gretel by the 19th century playwright Engelbert Humperdinck.

Based on the classic Grimm's fairy tale, this production is brought to life with giant character-puppets, exotic costumes, music and spectacular effects.

Théâtre Sans Fil, which in French means "theater without strings," was founded in 1971 in Montreal, Canada. The company's work was initially inspired by the classical techniques of Japanese Bunraku theater. Over the years it has adapted this style of giant puppet manipulation
and form, uniting it with original and modern set design, lighting, and special effects such as black light, dry ice, fireworks, and multimedia projections.

A Théâtre Sans Fil production team consists of 5 to 12 puppeteers dressed in black who operate 25 to 75 puppets, depending on the show being performed at the time. These award-winning creations blend fantasy, poetry, imagination, music and magic! Visit www.theatresansfil.com for clips, photos and more information.

Tickets for the performance are $12 for adults, $7 for students and are available at: Rock Rabbit, Pony Express Photo, Cowboy Shop, Office Outlets, the Big Piney Library and at the door the night of the show.

The Pinedale Fine Arts Council is supported through your donations as well as grants from the Wyoming Arts Council, National Endowment for the Arts, Sublette BOCES, the Town of Pinedale, Sublette County School Districts No. 1 and No. 9, Sublette County Recreation Board, VSA Arts of Wyoming and the Western States Arts Federation (WESTAF). A donation from Questar also helped make this show possible. For more information please visit www.pinedalefinearts.com or call 307-367-7322.