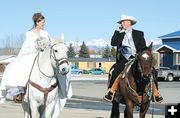 Jennifer and Jared Rogerson

Jennifer and Jared Rogerson were married in Pinedale on Thursday, December 7th. Photo courtesy Sublette Examiner.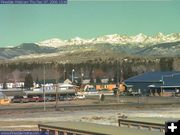 Posing for the cam

The couple poses in the Wrangler Cafe parking lot so they can be caught on the webcam.


Rogersonís Wedding
Mixing their wedding, horseback riding and webcams
by Pinedale Online!
December 14, 2006

Jennifer and Jared Rogerson were married in Pinedale on Thursday, December 7th. After their wedding ceremony, they rode horses down Pine Street and posed near the Wrangler Cafť so they would be caught on the Pinedale webcam in order to show Jenniferís father, Gary Carlson, who resides in New York, what they looked like on their wedding day.

The Sublette Examiner printed a picture of the newlyweds on the front page of the December 14 edition of the paper. We thought it would be fun to see if we could find the webcamís photos of the couple, so we went through the archive history of the webcam pictures for that day. We found four images of the couple that were caught by the camera.

The Pinedale webcam is positioned on the Pinedale Entertainment Center building on the south side of Pine Street/US Hwy 191. The cam is sponsored by Wolf Dodge (please tell them thank you!) and maintained by Pinedale Online. The view shows the Wind River Mountains, Highway 191, west Pinedale and the Wrangler Cafe.

For those who wish to pose and be caught on the cam for the hourly pictures stored on the Pinedale webcam page, position yourself on either the north or south side of Highway 191 in the camera view near the top of the hour. The cam takes a photo approximately every three minutes. Use your cell phone and call a friend to check the page and make sure they see you in the photo. If it is one of the hourly pictures, it will be there during the 24 hour period for that day.

We archive all the photos for the daily and yearly historical record, so we can always go back to any of the stored pictures for any day to find an image. For more information about this cam, contact us here at Pinedale Online, 307-360-7689, support@pinedaleonline.com.