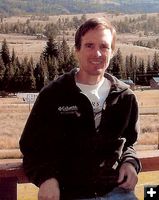 Paul Raftery

Photo courtesy Sublette County Sheriff's Office.

Paul Raftery – Obituary
1965-2006
December 26, 2006
Paul A. Raftery, 41 of Helena, Montana, passed away December 8, 2006.

He was born March 10, 1965, in Berkley, California to Robert P. and Mary Kay (Miller) Raftery.

Paul attended grade school through high school in San Jose, California, where he obtained the honor of Eagle Scout. Paul graduated from UC Davis with a bachelor's degree in fish and wildlife biology.

Paul worked for the U.S. Park Service in Arizona and later served with the U.S. Park Police in Washington, D.C., and San Francisco. He also worked as a deputy sheriff, detective and Chief Detective with the Sublette County Sheriff's Office in Sublette County, Wyoming.

Paul entered law school at the UM of Missoula and graduated with honors in the spring of 2006. He passed the Montana state bar in July of 2006 and began working for the Supreme Court of Montana with Justice John Warner.

Paul is survived by his parents, Bob and Mary Kay Raftery of San Jose; brothers, Matthew Raftery of Reno, Nevada and John (Lori) Raftery of Lincoln, California; sisters Anne Raftery of San Jose, and Amy (Michael) Holzr of San Jose; and his special companion, his beloved dog, Thelma.

A memorial service will be held at 10:00 am on Saturday, January 6, 2007 at Our Lady of the Peace Catholic Church in Pinedale.

Family prefers memorials to be sent in Paul's name to the Lewis and Clark Humane Society in Helena, Montana: PO Box 4455, Helena, MT 59604.