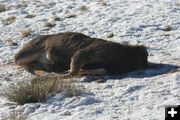 Road kill buck

A headless deer carcass lays near Highway 191 between Pinedale and Daniel.


Itís a road kill. Can I keep the antlers?
Roadkill deer
by Pinedale Online!
December 19, 2006

Road kill deer are a fact of life in rural areas that have an abundance of wildlife. If you drive between Pinedale and Daniel, you may have seen the headless deer carcass this week on the side of the road near the Duck Creek turnout on Highway 191, east of Trappers Point.

What happened to its head?

According to the Wyoming Game & Fish, this buck was a road kill casualty. Because it was a buck with antlers, which some people might want to claim for a trophy, the head was removed and is in the possession of the Wyoming Game & Fish.

ďThe protocol for the public in the event they find a road killed buck deer is to contact a local G&F office, or the stop poaching hotline, and report the location. A Game and Fish enforcement officer will investigate the scene to make sure it is not an illegal killing and remove the head. Also, heads from mule deer are being collected by G&F personnel to test them for Chronic Wasting Disease,Ē said Pinedale Game Warden, Brian Nesvik.