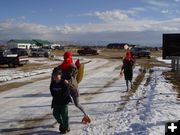 Turkey Trot 2006

Pictured are Kristin Corwin and Andi Noble (turkeys) and Garret Kingsbury (8 year old runner). Photo courtesy Craig Sheppard.


Pinedale Turkey Trot
Annual Thanksgiving morning Walk-Run
by Craig Sheppard
November 26, 2006

Whoever would of thought, in 1990 when the first Pinedale Turkey Trot was held, that this Thanksgiving exercise event would be averaging over 100 people and better yet having two years in a row with the temperature almost above freezing. Yes, the 105 trotters in the 16th running of the Pinedale Turkey Trot were blessed with 29 degree weather and no wind. I believe this was the first time you could see sweat shirts, coats, caps and gloves laying along the course, discarded because of the heat, waiting for someone to return and retrieve them after they navigated the grueling course.

Not all were happy with the sweltering heat. Kristin Corwin and Andi Noble dressed up as turkeys for the second year in a row and ran the entire course in a remarkable time of 34:29. The gobbler hoods and paper feathers did nothing to cool these teenagers off during their run. Mike and Lauri McClain's three-year-old grandson, Zayne, was looking forward to seeing some turkeys on this adventure. When he saw these turkeys he looked at his grandparents like they were "pulling his leg" again. We thank Kristin and Andi for adding to the festivities.

This event is not about winning or who could be the first around the course. But this year Ken Konicek was out of town, and the spot of who would be the first around the course was not decided in advance. Scott Carpenter came in first with a time of 21:10, followed in the men's category by Scott Corwin (23:46) and Mark Pape (28:18).

The big story of this year's race was Lucas Corwin (22:58) and Aunders Hallsten (22:59). They both are 12-year-old middle schoolers and they came in 2nd and 3rd place overall. Lucas has run in this race for quite a few years, even in the 7-below race of 2003, while Aunders is a relative newcomer to the Turkey Trot circuit. Aunders did say after the race, "the only bad part is I don't get an A in band for today because I beat my band director." Now what band director would have the nerve to say something like that? Third place in the boys division went to 11-year-old Connor Kingsbury. He does get an A in band for the day because he didn't beat his band director. But I am sure next year will be a different story.

The teenage boy division was won by Jeremy Silvey (24:09), followed by Luke Johnston (24:20) and Gus Holz (24:40). The teenage girls division was won by Shanna Corwin in 27:31 with her puppy Zoe in tow, or was it pulling her? This puppy's legs couldn't have been more than 3-4 inches long – can you imagine how many steps it took on this 3-mile course? Afterwards, it looked none the worse for wear and did look like it was ready to get into some more mischief. Second place in this division went to Meredith Noble (27:55) and third to Jennifer Pape (29:32).

The most highly contested division this year was the adult women's category, with this group all finishing within one minute of each other. Laura Vasquez took first place in a time of 24:54, followed by Gracy Huntley (25:05), Suzy Kingsbury (25:20), original member Terry Cain (25:38), Sue Holz (25:54) and Cassy Johnston (25:58).

Definitely the biggest group of participants was from the walkers, run/walkers, trotters, etc. group. It is very hard to determine who actually did what, but the first true walker in was Shawna Danze in the time of 38:31, followed by Karen Stewart and JJ Huntley (39:10) and Larry Jensen (39:20). The biking division was won by 4-year-old Mitchell Pape with a time of 40:15, training wheels and all. According to his mom, Sharon, this is the 5th time he has been in this race. Figure that one out! It took race director Sheppard half way through the race before the "light came on" on that statement. Cheston Clover actually came in first on his bike, but was disqualified because he didn't start the race until part way down the lane as we were coming towards him. Glad to have you with us anyway, Cheston.

Many youngsters were involved in this activity. No matter if they walked, were carried, pushed in strollers or in golf carts, it sets an example of a healthy lifestyle that will stay with them forever. Our youngest participant was 3-month-young Nicolas Smith. In the other end of the category, we had six participants over 60. I won't mention their names (because I may soon be there), but what a great way to keep in shape. Keep it up!

Many thanks go out to make this little get together possible. The Pinedale School transportation director, John Overgaag, for the use of their fluorescent cones, and the Pinedale Half Marathon committee for use of their electronic timer and "runners on road" sandwich signs. A special thanks goes out to my son, Wyatt, who instead of participating stayed behind and took down times and places of participants so his "old man" could run.

Once again this was a great time, seeing people you don't normally see early in the morning, competing and visiting with each other and watching entire families together enjoying the wonders of the outdoors of this little mountain community. Remember the 17th Annual Pinedale Turkey Trot will be held again Thanksgiving morning 2007 at 9AM at the Sheppard's house. It is not too early to get in shape for it!