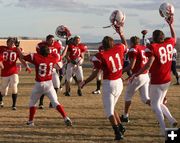 Punchers defeat Glenrock

The Big Piney Punchers defeated the Glenrock Herders 16-0 in the Class 3A semifinals played in Big Piney on November 3. The Punchers now travel to Dayton, Wyoming, for the State Championship against undefeated Tongue River who beat Lyman 42-36 in the other semifinal game also played on Friday.

Big Piney Punchers defeat Glenrock
Head to state championship!
November 3, 2006
Big Piney 16-Glenrock 0
For pictures and more details see Big Piney vs Glenrock, (26 photos).

Big Piney will play Tongue River in championship game!
Game will be at Tongue River (Dayton) on Saturday, November 11.

State 3A Football Championship Brackets

Photo by Clint Gilchrist, BigPiney.com