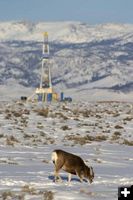 Winter Range and Gas Wells

A mule deer paws through snow in search of food on its winter range south of Pinedale against the backdrop of a natural gas drill rig and the Wind River Range. Photo by Mark Gocke, WGFD.


G&F recommends against winter range closure exceptions
Shrub production Ďabysmalí on winter range
by Wyoming Game & Fish
October 31, 2006

(Pinedale) - With word of requests for exceptions from big game winter range closures by natural gas companies in the Pinedale area, Game and Fish officials say they will recommend the BLM deny them based on poor forage production this past summer.

"We've just finished looking at the shrub production data for our winter ranges this past growing season and it is abysmal," said Jackson/Pinedale Wildlife Supervisor, Bernie Holz. "There is going to be very little forage for those antelope and mule deer this winter and we cannot in good conscience support any additional stress being placed on those animals from gas development activities on crucial winter ranges."

Each year Game and Fish biologists measure "leader growth", which is the new growth on shrubs from the current growing season that browsing animals like antelope and mule deer survive on through winter. Average leader production on sagebrush was only 0.3 inches compared to 1.07 inches the past couple years. The sagebrush data from the Pinedale Mesa showed even less at 0.12 inches.

The mountain mahogany production averaged 0.85 inches as compared to 3.94 inches the past couple years. And bitterbrush averaged 2.55 inches of leader growth this year compared to 7.18 inches the past couple years.

"You can see how much difference summer moisture can make, but we just didn't get it this year," said Pinedale Habitat Biologist Nick Scribner. "Several of the sagebrush plants we measured this year had zero leader growth on the entire plant. All they did was kick out leaves. And very little seed, if any, was produced by shrubs this year."

Biologists are concerned there could be significant antelope and mule deer winter losses, even with average winter conditions, given the lack of forage production.

"Even last year, with the better shrub production, we had a fair amount of deer die over the winter along the Wind River Front," said Scribner. "It figures to be much worse this year considering we only have 30 percent, or less, of the forage production we had the previous two years."




Related Links