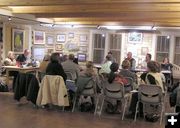 Candidate Forum

Candidates for Sublette County Commissioner participated in the forum.

Candidate Forum Nov. 1 in Pinedale
Also will be broadcast live on KPIN 101.1 FM
October 29, 2006
(Pinedale) - Sublette County citizens will have one last opportunity to hear local candidates for Sublette County Commissioners state their views during a Candidate's Debate to be held on Wednesday, November 1st at the Sublette County Library in Pinedale. Bob Rule, owner of local KPIN 101.1 FM radio station, is hosting the event. The debate will begin at 7:00 pm in the Lovatt Room and will be also be aired live on KPIN radio.

The event is not a true "debate", said Rule. It is a forum where candidates will be answering questions provided by the moderators, the public, and the candidates themselves.

Rule explained, "I am asking the candidates to submit questions to me, but when we ask these questions of all five candidates, we will not disclose which candidate submitted that particular question".

Rule stated that he felt the candidates themselves would be in a good position to suggest questions which will allow the public to learn the differences among the candidates, and he looks forward to seeing what questions they submit.

Four of the County Commissioner candidates have confirmed they will participate. Rule is still unsure about candidate Courtney Skinner, who has been unavailable due to the family emergency in the recent death of his nephew, Todd Skinner.

Rule has arranged for Susan Kramer to co-host the event with him. "It's no secret that I'm a conservative Republican, and I felt that in order to give balance to the forum, I needed a liberal Democrat to be seated next to me", Rule said. Susan Kramer is active in the Sublette County Democratic Party, and is a former Democratic candidate for County Commissioner. "Since Susan Kramer has run for this office herself, I thought she was a natural choice to join me to provide balance in the forum", Rule said.

In addition to interviewing the County Commissioner candidates, Rule also plans to engage in discussion on Constitution Amendment B, which will be on the ballot with two other amendments. "I've already arranged for a group opposed to Amendment B to join me, but I have not yet been able to find anyone to join the forum in support of Amendment B", Rule said. Anyone wishing to speak in support of Amendment B should contact Bob Rule at KPIN Radio prior to the forum.

Rule is also encouraging the public to submit suggested questions to him prior to the event. They may FAX questions to him at 307-367-3300 or e-mail them to KPIN, kpin @wyoming.com, placing the words "Forum Questions" in the subject line. Or, they can drop off questions at KPIN Radio, or mail them to KPIN at PO Box 2000 in Pinedale, 82941. Rule will also ask those attending the event to turn in questions.

Sponsors for forum include Property Partners and Pinedale Online. Bob Rule of KPIN said they are still looking for additional sponsors for the forum. "By sponsoring the event, they are not supporting or opposing any specific candidates or issues," Rule said.

The forum will begin at 7:00 PM in the Lovatt Room of the Sublette County Public Library in Pinedale. If you can't come to the debate in person, listen in to 101.1 FM!