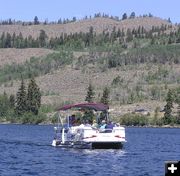 Party Barge

Half Moon Lake Resort offers pontoon boat, "Party Barge", rentals. These are great for groups and families to enjoy a lazy day out on the lake!

Fun at Half Moon Lake
August 19, 2006
It was a great weekend to be enjoying the great outdoors this past weekend. People were out at Half Moon Lake jet skiing, water skiing, fishing, swimming, and crusing the lake on pontoon boats. Half Moon Lake Resort is right on the lake and offers a variety of kinds of boat rentals (canoes, fishing boats, motor boats, party barges.)

Photo by Dawn Ballou, Pinedale Online!