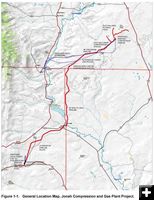 Jonah Pipeline Map

Jonah Bridger to Opal (JBTO) Natural Gas Pipeline Project map. Graphic by BLM.


Jonah Pipeline Project given go-ahead
Finding of No Significant Impact
by Bureau of Land Management
July 16, 2006

The Bureau of Land Management will issue an Environmental Assessment (EA)/Finding of No Significant Impact (FONSI) /Decision Record (DR) for the Jonah Bridger to Opal (JBTO) Natural Gas Pipeline Project.

The EA/FONSI/DR analyzed that adverse impacts would be minor and short term. This includes impacts to: surface ownership/use and grazing; livestock management; socioeconomics/environmental justice; cultural resources; paleontology; soils/watersheds; water resources; air quality/noise; vegetation/riparian areas; wildlife and fisheries; threatened, endangered, candidate and special status species; visual resources; and from the use of hazardous. Potentially substantial positive economic impacts could result for the companies, and local, state and federal governments.

This determination for FONSI is based on the rationale and management considerations and the implementation of mitigation measures outlined in the EA. The Kemmerer, Pinedale, and Green River Resource Management Plans provide for the use of these lands for oil and natural gas development. An amendment to these plans for the approval of this project would not be necessary.

Jonah Gas Gathering Company (JGGC) proposes to enhance their ability to gather natural gas produced from the Jonah and Pinedale Anticline natural gas fields for the long term (approximately 30 years). This proposal, consists of constructing multiple large diameter pipelines, building a new compressor facility, expanding the existing Pioneer Gas Plant, and installing two 230 kV powerlines to supply power to the new compressor facility and plant expansion would allow them to deliver to multiple markets and provide for the sale of developed minerals.

More information is available by contacting the Kemmerer BLM JTBO Project Lead, Kelly Lamborn, at (307) 828-4505; or visit the website: http://www.wy.blm.gov/nepa/kfodocs/jonah_bridger/index.htm.