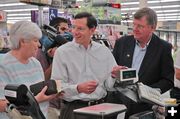 Food Tax holiday

Rep. Ann Robinson, D-Casper, Sen. John Barrasso, R-Casper, and Wyoming Gov. Dave Freudenthal examine their receipt after grocery-shopping Friday in Casper. The sales tax on food will be lifted statewide July 1.


State-wide Food Sales Tax Holiday begins July 1
Food sales tax removed for 2 years in Wyoming
by Governor Freudenthal's office
June 30, 2006

A bipartisan group of Wyoming leaders gathered in Casper Friday to mark the kickoff of a two-year food sales tax holiday that begins July 1.

Wyoming Gov. Dave Freudenthal, Rep. Ann Robinson, D-Casper, and Sen. John Barrasso, R-Casper, together purchased nearly $300 worth of groceries that they then donated to the Wyoming Food Bank of the Rockies. Beginning Saturday, when the food sales tax is removed for the coming biennium, those groceries would cost almost $18 less.

"There were a lot of ideas circulating in the last legislative session for ways to leave some extra money in the taxpayer's pocket, and suspending the sales tax on food certainly accomplishes that," Freudenthal said, observing that the actions constitutes the first broad-based tax relief in decades. "It'll be a benefit to all of us, but particularly to those on a fixed income. I commend the Legislature for their actions, and I hope the citizens will enjoy the tax relief that has been provided."

The food exemption, which lifts the sales tax on food statewide, will be in effect for two years, or until June 30, 2008. Barrasso and Robinson said the average household in Wyoming will save approximately $300 per year.

"We still have a lot of work to do, because we want to make this tax relief permanent, but today's a day to celebrate," Robinson said, calling July 1 "Independence Day from taxes."

"This entire discussion has really been about keeping dollars in the pockets of the hard-working people of Wyoming," Barrasso said.

Exempted from the sales tax holiday are tobacco products, alcoholic beverages, food sold through vending machines and "prepared foods," which include items sold in a heated state by the vendor and foods sold with eating utensils.

Also taking part in Friday's event was Sen. Kit Jennings, R-Casper.