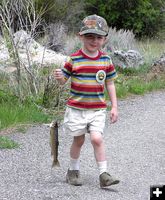 Claytons fish

3-year old Clayton, from Pinedale, takes home his fish.

Kidís Fishing Day at CCC Ponds
June 3, 2006
The Wyoming Game & Fish Department held their annual Kidís Fishing Day at the CCC Ponds on Saturday, in conjunction with Wyomingís Free Fishing Day. About 60 kids, ages 1-13 signed up for the event and participated in the many activities. The annual fishing day was also sponsored by the US Forest Service, Bureau of Land Management, Trout Unlimited and the Town of Pinedale.

Various stations set up near the ponds showed kids how fly and spin casting, fish identification, fish anatomy, knots, water bugs and fish food and more. All the necessary fishing equipment and bait was provided. The local chapter of Trout Unlimited chapter provided a free hotdog/hamburger lunch.

The CCC Ponds were recently stocked with rainbow trout and many kids caught fish, the best part of the event.

Photos by Dawn Ballou, Pinedale Online!