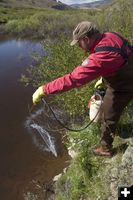 Rotenone treatment

Pinedale Fish Biologist, Matt Kondratieff, sprays rotenone into backwaters of LaBarge Creek in 2005. Photo by Mark Gocke, WGFD.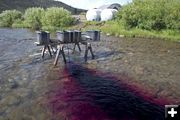 LaBarge Detox

A detoxification station neutralizes the effects of rotenone applied upstream on LaBarge Creek in 2005. Photo by Mark Gocke, WGFD.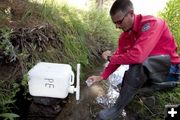 Drip Station

Lander Fish Biologist, Joe Deromedi, measures a rotenone drip station on a tributary of LaBarge Creek in 2005. Photo by Mark Gocke, WGFD.


G&F continues restoration of LaBarge Creek
Treatment August 8-18
by Wyoming Game & Fish
June 28, 2006

(Pinedale) The Wyoming Game and Fish Department will be intensively removing non-native fish from LaBarge Creek west of the town of LaBarge in southwest Wyoming August 8-18, 2006. As a result, the G&F suggests anglers and other outdoor enthusiasts help by avoiding LaBarge Creek during that period.

The Game and Fish is in the sixth year of a project to restore the native Colorado River cutthroat trout in the LaBarge Creek watershed. The project area includes 58 stream miles located on U.S. Forest Service lands.

Colorado River cutthroat trout will be restored within their historic range in LaBarge Creek, where they can persist and be managed without continual competition and hybridization from nonnative fish species. The plan calls to remove non-native trout * brook and rainbow -- in the headwaters of LaBarge Creek. Once non-natives have been removed, a self-sustaining Colorado River cutthroat trout population can be established.

In August, fish biologists will be treating the upper 27 stream miles of LaBarge Creek again, along with all the tributaries located in the project area. This will be completed using rotenone, fish toxicant. This chemical has been used successfully in many stream restoration efforts and has proven highly effective at removing unwanted fish from aquatic systems. The projected plan is to restock with native cutthroat trout, as well as other native fish species, in 2007.

LaBarge Creek should be considered closed to all water activities during the treatment period August 8-18, 2006. Anyone planning to recreate in the LaBarge Creek watershed during this time period is encouraged to consider an alternate location. A few suggestions would be to camp and fish in the nearby South Piney, Greys River or Smith's Fork drainages.

For more information about the Colorado River cutthroat trout restoration project on LaBarge Creek,or for suggestions of alternate recreational locations, please contact Wyoming Game and Fish Pinedale Fisheries Supervisor, Hilda Sexauer or Office Manager, Disney Brunette at 800-52-9107 or 307-67-4347.

Game and Fish personnel will be available at the treatment site August 7-18, 2006, to answer any questions.