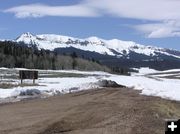 Road still snowed in

Snow still blocks the North Cottonwood Creek Road. The parking area at the road junction is free of snow and mostly dry.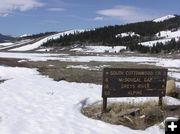 McDougal Gap Road

The McDougal Gap-North Cottonwood Creek Road traverses the east and west sides of the northern Wyoming Range, giving access to the Greys River area from the east.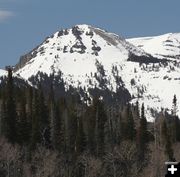 Lander Peak

Lander Peak sits just east of Triple Peak in the northern Wyoming Range.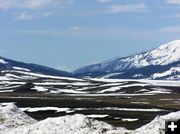 McDougal Gap

McDougal Gap is a very scenic route between the eastern and western side of the Wyoming Range. It is still inaccessible due to snow.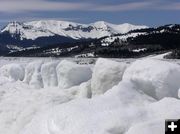 Snow Sentinals

The snowplows left unusual snow formations next to the road leading up to the forest boundary along the North Cottonwood Road into the Wyoming Range.

Condition Update: McDougal Gap, Cottonwood Creeks
April 23, 2006
As we move into the end of April, people are doing a variety of activities. Some folks still arenít ready to let winter go yet. Thereís still enough snow in the mountains to find decent late-season snowmobiling and even skiing, if you know where to go. The snow is getting pretty crusty and melting down, making it easy to catch a snowmobile ski on the crusty surface or find a rock below the sinking snow. Be alert for avalanche danger if youíre skiing or sledding in the mountainous backcountry.

Others are SO ready for winter to be over and are pouring through seed catalogs and getting greenhouses ready to keep little plants safe during the occasional cold spells that are sure to come still in the next several weeks. It usually isnít "safe" to put plants outside until about the 1st of June, others play it safe and wait until Fatherís Day, mid-June. It has been known to snow on the 4th of July here, and it can snow any day of the year in the high mountains, so outside gardening is definitely a challenge.

We know a lot of you are itching to get out and into the mountains, but itís still a bit early to get to most of the favorite spots on the forest. The snow is off the valley roads and they are mostly dry and firm. The road into Green River Lakes and other popular recreation areas and lakes are still inaccessible and usually donít open up until the end of May.

Rivers and streams are starting to come up and get muddy with spring melt, so fishermen are dealing with spring run-off for stream fishing.

If youíre out antler hunting in the open sagebrush hills, be sure to know where you are. Certain areas of the desert are still under wildlife winter range closures. Also be sure to check for ticks when you get home.

This weekend we checked out North and South Cottonwood Creek roads/McDougal Gap road in the Wyoming Range to get an update on the road and snow conditions. The road is mostly bare up to the cattle guard at the North/South Cottonwood road junction, but is still snowed in past there.

We arrived at the McDougal Gap road entrance just in time to catch up with Pinedale Roundup newspaper crew Rob Shaul and Lindsey Ross as they were loading their snowmachines back onto their trailer. They had sledding up to the base of Triple Peak early Saturday morning and hike up to the top. Then they got in some awesome downhill skiing on the steep slopes of one of the bowls on the north side of Triple Peak. They reported the snow in the trees is still around four feet deep and the snowmobiling in was still good. They were lucky they had GPSíd where they had parked their snowmachines, because apparently they found themselves quite a ways away from where they thought they were when they skied down. We were able to see their ski tracks using the telephoto lens. Be sure to check out this Thursdayís Pinedale Roundup newspaper to get the full story and their photos of their ski trip up on Triple Peak. The view from that high is awesome.

Weíve also been very interested in the Lander Cut-Off of the Oregon Trail recently and have been doing quite a bit of exploring trying to retrace the actual route. The Lander Cut-Off was used by emigrants in the late 1800s and goes from South Pass along the western slope of the Wind River Mountains. It veers across BLM land generally along the Big Sandy River, crosses Hwy 191 just north of Hwy 351, crossing the New Fork and Green Rivers. It crosses Hwy 189 just north of the Sublette County Fairgrounds north of Marbleton. From there, it goes west into the Wyoming Range, ultimately ending at Fort Hall in southeastern Idaho. The trail is designated by markers along its length and there are some pretty good stretches that can still be driven or traveled with a 4-wheeler or mountain bike. Itís a rough road and a high-clearance 4-wheel drive vehicle is recommended. Expect to go slow, bring water and be prepared for flat tires.

It appears from diary accounts that some people chose to avoid the two river crossings and diverted from Landerís Trail just east of the New Fork River crossing and instead traveled southeast to take advantage of a ferry that was operating across the Green River about a mile or so southeast of Big Piney. The New Fork and Green Rivers merge just northeast of there, so the detour saved travelers one river crossing and the ferry made it a lot easier to cross the river. The probable short bypass trail of Landerís Route is shown on 1890s Government Land Office maps. This precise trail isnít marked on the ground today, however one can come pretty close to finding it by taking rough back roads across BLM backcountry east of Big Piney.

The photos in this report from our weekend excursion and exploring arenít particularly scenic in the traditional sense. Things still havenít greened up yet and we spent a good deal of time traveling back roads and desert terrain scoping out remote areas most causal tourists never see. For anyone who is intimately familiar with the area and knows the major landmarks, these photos will give you a good idea of what things look like for conditions as of this weekend.

Once temperatures warm up a bit more in the next few weeks, spring will take over and things will green up. Leaves will come out on the trees and the wildflowers will be awesome, even in the desert. If youíre wondering about when things will open up in specific areas, see our news archives for past years to get an idea of the progression of the seasons from month to month from our previous condition reports, area tours and photo stories.

If there is any particular area you want to know about, let us know and weíll try to check it out on one of our upcoming outings for a photo story.

Story by Dawn Ballou. Photos by Clint Gilchrist and Dawn Ballou, Pinedale Online!