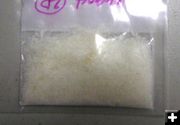 Crystal Meth Packet

More refined meth is now coming in from Mexico as a result of restrictions in the U.S. on the common household items used to manufacture the drug. Ingredients include lithium (from batteries), Ephedrine (cold tablets), iodine, alcohol, drain cleaner and other extremely toxic and harmful chemicals.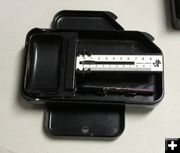 Drug Scales

Drug scales for weighing various types of drugs. Many kinds of scales are used including small postage scales.


Sheriff's Meth Forum
by Pinedale Online!
Original post March 15, 2006 | Updated January 8, 2014

Editor's Update, October 26, 2010: We've updated the Related Links section at the end of this article to add in a new link.
_______________________________________

The Sublette County Sheriff's Office held Meth Forums in Big Piney and Pinedale on March 15 and 16th.

The purpose of the forum was to inform the public about the increasing use of this extremely addictive drug in Sublette County and across the nation and answer questions from the public. Sublette County is currently ranked in the top 5 counties for meth use in Wyoming.

What is meth?
Methamphetamine (Meth) is a white, odorless, bitter-tasting crystalline powder that easily dissolves in water or alcohol. Methamphetamine in all forms is a highly addictive central nervous system stimulant that can be injected, snorted, smoked, or ingested orally. Meth releases high levels of the neurotransmitter dopamine which can enhance the mood and body movement.

Meth is also known as meth, crank, glass, speed, crystal, ice, batu, chalk, shabu or zip. It is a highly addictive drug that hooks its victims on the very first use. Because it is so highly addictive, education and warnings to not even experiment with this drug are critical to keep people, especially young children and adults, from falling victim.

Meth is a drug that affects all age groups, ethnic groups and social classes. Users say it is almost impossible to save those already on the drug. "You can't save the ones who are already on it, but you can save the ones who haven't tried it." As one of the fastest-growing drug use problems, more attention is being placed on trying to keep people from trying the drug and to provide treatment for those who have already fallen victim.

Signs of someone using meth
-Hyperactivity
-Wakefulness
-Loss of appetite
-Incessant talking
-Extreme moodiness and irritability
-Repetitious behaviors such as picking at skin or pulling out hair
-Displaying an overwhelming sense of confidence and power
-Aggressive or violent behavior
-Loss of interest in previously enjoyed activities

Also watch for extended sleepy periods, because when meth wears off, the person will be worn out and tired. He/she may seem sluggish and/or depressed.

Signs of dealing meth
Syringes
Razor blades
Drinking straws cut down to 3-4"
Small zipper-closure plastic bags (1-2" square)
Small glass pipes

Signs of manufacturing meth
Many people may be unaware that they may be living near a meth lab. Meth labs can be in houses, barns, apartments, trailers, campers, cabins and motel rooms – even the backs of pickups. The equipment for a meth lab can be as small as to fit in a duffel bag, a cardboard box or the trunk of a car.
-Tubing
-Unmarked Mason jars with tubes attached
-Stained coffee filters
-2-liter pop bottles
-Blenders
-Camera batteries
-Wooden matches
-Propane cylinders
-Hot plates
-Unusual, strong odors (like cat urine, ether, ammonia, acetone or other chemicals).
-Residences with windows blacked out
-Lots of traffic
-Excessive trash including large amounts of items such as antifreeze containers, lantern fuel cans, red chemically stained coffee filters, drain cleaner and duct tape.

Where to report suspected drug activity or other suspecious activity
Anyone with any information about suspected crimes or drug use can call the Sublette County Sheriff Department Toll Free Crime Information and Drug Activity Tip Line. This is a totally automated, 24-hour contact number. The call is free and callers can remain totally anonymous. Information of interest is names, license numbers, times, dates, places and the type of criminal activity. 1-800-TIP-US_OFF. When the TIP LINE computer answers, enter EXTENSION: 367.

For help and more information
Wyoming has certified drug treatment programs in 29 counties. A new 100-bed treatment facility is being built in Rock Springs. For treatment in Pinedale, contact High Country Counseling and Resource Center at 307-367-2111. The Sublette County Sheriff's Office also will provide help and information to anyone seeking more information about suspected drug use, 307-367-4378. Below are more contacts for drug treatment centers elsewhere in the nation.

Choices Recovery Center
1-800-981-9228 (located in Central Florida)
www.choicesrecoverycenter.org

Drug Rehab
1-877-437-8422
(non-profit organization for treatment options)
www.drug-rehab.org

Narconon International
1-877-947-5900
www.narconon.org

Narconon in Burley, Idaho
1-208-878-2600
www.narcononidaho.org

DARS – Drug and Alcohol Rehab Services
1-800-515-3277
www.drugandalcoholrehab.net

The Watershed Addiction Treatment Programs
1-800-861-1768
www.thewatershed.com

Photos by Dawn Ballou, Pinedale Online!




Related Links