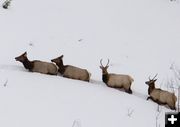 Elk in deep snow

A group of elk move slowly through belly-deep snow in the Buffalo Valley area north of Jackson recently. Photo by Mark Gocke, WGFD


Heavy snow prompts emergency elk feeding
by Wyoming Game & Fish
March 3, 2006

(Jackson) Deep snow, and the need to keep elk away from cattle, have prompted the Wyoming Game and Fish Department to initiate temporary emergency elk feeding operations in two locations north of Jackson. Although established elk feed grounds are effective in minimizing elk starvation and keeping most elk out of cattle feed lines, Game and Fish personnel routinely are challenged with moving elk away from private lands throughout northwest Wyoming during the winter months, especially during heavy-snow years.

"We always have a number of problem elk to deal with each winter," says Jackson/Pinedale Regional Wildlife Supervisor, Bernie Holz. "But this winter the snow is deep enough there's no place to move the elk to."

Wyoming Game and Fish Commission policy directs that "temporary feeding operations may be conducted when agreed upon by the Director and the Commissioner for the areas where the emergency exists." Approximately 200-250 elk are being fed on the Hatchet Ranch in the Buffalo Valley area east of Moran and another 50 head of elk are being be fed near the Taylor Ranch in the Gros Ventre drainage northeast of Jackson.

The situation demonstrates how difficult elk management in the deep snow country of northwest Wyoming can be.

"Obviously, the potential risk of transmitting brucellosis to livestock is a primary concern and warrants immediate action to keep these animals apart," said Holz. "We do not intend to start new elk feeding locations, but we're running out of options at this point. When you can't move the animals back to an established feed ground or suitable winter range, you're left with emergency feeding or lethal removal."

Game and Fish officials say these are not the only elk damage locations in the region and there remains a possibility for additional emergency feeding sites as the winter wears on.

"There may be some similar situations developing in Star Valley and other locations across the region," said Holz. "Currently, we are trying to bait elk back to feedgrounds in Star Valley, but it's questionable as to whether we'll be successful because of the difficulty in moving elk through deep snow."

Game and Fish officials reinforce the fact that these are temporary feeding operations in response to the hard winter and will only be continued as long as necessary to sustain elk and keep elk and livestock apart.