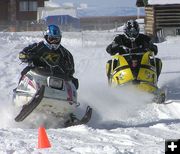 Close Snowmobile Race

Team #18 is just ahead of sled #241 as they get to a turn. Both teams were from Pinedale. 18: Kevin Jaquez/Phillip Mason. 241: Mike Carrillo/Corey Jensen.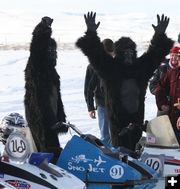 The Gorilla Guys

The 'Gorilla Guys', team #40 from Jackson, were Glenn Ronning and Kane Hudson. Their team took 2nd Place in the race.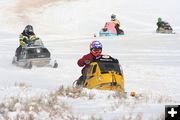 00 Leads the way

00 Team, Troy Bredthauer of Pinedale and Mike Engles of Boulder, ultimatey won 1st Place.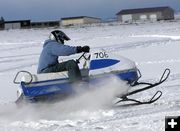 3rd Place Winner

Team 706, Robert Easton of Pinedale and Ron Coon of Rock Springs, tied Team 100 for 3rd Place.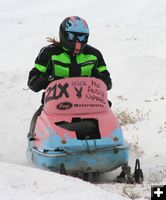 The Flaming Nipple

Team 21X was the 'The Flaming Nipple' girls kick-ass team, composed of Nickie Millican and Amy Sheldon from Pinedale's from Troys Motorsports.

One Lunger Snowmobile Race Results
12 teams in 1973 vintage and older single-cylinder sleds
January 10, 2006
The Pinedale Snow Explorers Snowmobile Club held their 6th annual One Lunger 100 Snowmobile Race on Saturday, January 7th. The event took place at the Sagebrush Downs oval track near Cora with 12 teams from Pinedale, Rock Springs, Jackson, Bondurant, Boulder and Daniel competing.

The "OO" team, Pinedale's Troy Bredthauer and Mike Engles from Boulder, took 1st Place in the event. The "Gorilla Guys" team "40", Glenn Ronning and Kane Hudson from Jackson team, took 2nd Place. Team "100", Dyson Winters of Pinedale and Blaine Mathews from Rock Springs, tied for 3rd Place with the team "706", Robert Easton of Pinedale and Ron Coon from Rock Springs.

The One Lunger began in 2000 as a fun activity born from an interest in vintage snowmobiles. The rules require that all snowmobiles entered in the race must be 1973 vintage or older, single-cylinder snowmachines. Any engine modification is permitted and any fuel may be used. Jackshafts are prohibited.

Entries are composed of two-person teams who take turns riding their machine on the course. The team that is able to complete all the laps wins. Part of the fun in it all is that most of the machines don't make it and have break downs during the race. Pit crews stand by for mechanical repairs and fuel. It is a common site to see machines being towed back to the pit area for an intense frenzy of mechanical repairs and duct tape quick fixes, anything to get the sled back on the track.

The race is a fun family affair that brings young and old together, and brings out a bit of the zany in some folks. The youngest members to compete this year were 12 years old. The Zaniest were the "Gorilla Guys"" from Jackson who competed in furry black gorilla costumes, and helmets of course. Club members were on hand with delicious hot chili for spectators and participants. Paramedics and an ambulance from Big Piney stood by in case of any unexpected accidents. Dave Stephens was the event announcer.

On a more somber note, the entire race was dedicated to long-time friend and club member, Bud Davison, who was recently killed in an automobile accident near Cora.

The Pinedale Snow Explorers Snowmobile Club holds a variety of fun events throughout the winter months. Upcoming events include the Heart 2 Heart SnoCross in Bondurant on January 21-22 where the club will help with concessions, the Pinedale Snow Drags on February 11 at the Sagebrush Downs track near Cora.

For more information about the club and their upcoming events, see their web page at www.pinedaleonline.com/snowexplorers

Photos by Clint Gilchrist and Dawn Ballou, Pinedale Online!

Winners:
1st Place, Team 00
Troy Bredthauer, Pinedale, and Mike Engles, Boulder

2nd Place, Team 40 - "The Gorilla Guys"
Glenn Ronning and Kane Hudson, Jackson

3rd Place Tie, Team 706 & 100
706: Robert Easton, Pinedale, and Ron Coon, Rock Springs
100: Dyson Winters, Pinedale, and Blain Mathews, Rock Springs

------------------------------
Other Teams:
Team 21X
Nickie Millican and Amy Sheldon, Pinedale

Team 18
Kevin Jaquez and Phillip Mason, Pinedale

Team 8
Mike Jackson, Bondurant, and Bob Millican, Pinedale

Team 911
Dwayne Burson and Zack Mason, Pinedale

Team 241
Mike Carrillo and Corey Jensen, Pinedale

Team 160
Robert Jaskolski and Roy Wolaver, Pinedale

Team 212
Aaron Koch, Daniel, and Wes Allen, Pinedale

Team 57
Cody McKinney, Pinedale, and Lars Anderson, Daniel

Team ?
Ryan McGuire of Pinedale, and Jim McLoughlin, Daniel