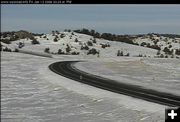 South Pass Webcam

One of two new WYDOT webcams at South Pass showing the road conditions on Wyoming Highway 28 over the southern end of the Wind River Mountain Range.


New WYDOT highway webcams
Total of 36 road webcams for travelers to view
by Wyoming Department of Transportation
January 14, 2006

The Wyoming Department of Transportation (WYDOT) has added new web cameras along I-25 and WYO 28, and plans to add two more along 1-90 north of Sheridan to provide more views of highway and weather conditions travelers can see via the WYDOT web site.

The new cameras on Wyo Hill along I-25 about eight miles south of Cheyenne and at South Pass and the Louis Lake turnout along WYO 28 about 35 miles southwest of Lander provide motorists and WYDOT personnel with a look at areas where difficult conditions can develop in winter.

The cameras give views of the highway in both directions, and they bring to 36 the number of highway views available at www.wyoroad.info.

Earlier this year cameras were added at the Granger Interchange, Vedauwoo, the old Summit Tavern and the Summit on I-80, and at Teton Pass on WYO 22.

The web page displaying the Teton Pass view has been visited more than 2 million times since Nov. 15, an average of about one visit every two seconds.

The cameras at the new port of entry about three miles north of Sheridan are still in the testing phase, and are expected to be available online in the next month or two.

Most cameras send updated images to the web site every five to 15 minutes, giving drivers a look at the conditions on the roads they'll be traveling, and allowing WYDOT maintenance personnel to see when conditions begin to develop that will require plowing or sanding.

"The camera images are one of the most popular destinations at www.wyoroad.info," said Brian Peel, WYDOT's intelligent transportation systems (ITS) development supervisor. "The new camera images have been well received, and we continue to receive feedback indicating a demand for more cameras throughout the state."

One of the department's goals is to have cameras in as many weather trouble spots as possible, and Peel said one area being investigated as a candidate for cameras is the section of I-80 between Laramie and Rawlins, particularly the Arlington area.

Sites are chosen for installation based on a combination of WYDOT commissioned studies, information provided by WYDOT's engineers, dispatchers, maintenance, ITS and telecommunications personnel and suggestions from the public.

"The successful installation of ITS devices throughout the state is dependent on the cooperation of various groups within WYDOT," Peel said. "Also, as these locations become more remote, the degree of difficulty and the costs involved with installing and maintaining these devices statewide increase dramatically."

Installation of cameras in areas where power and communications lines are already available can cost about $2,000. When cameras are needed to show conditions in rural and remote areas, getting power and communications to the site can be a challenge. When coupled with lighting needed to make the cameras' views visible at night, the cost can escalate to as high as $35,000. Telephone lines, fiber optic lines, radio modems, digital microwaves or combinations of those technologies are used to transmit the information from the cameras.

"We employ a wide range of technologies in order to get the information from the ITS devices, and that often results in a combination of old and new technology," Peel said.

WYDOT's ITS system also includes 28 remote weather stations operating around the state, and, as those sites are scheduled for upgrading, or new stations are added, they will be considered as candidates for camera installations. In cases where cameras are installed along with the weather stations, Peel said new technology might allow the department to include weather information such as temperature and wind speed on the image the cameras provide to the web.

Adding more cameras and other ITS devices to the system will allow WYDOT to offer motorists more information to use in making their travel decisions, but drivers still must use individual judgment and be prepared for changing conditions on the road.