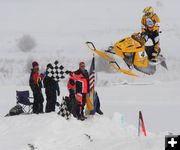 Frank Baker Finish

Frank Baker, from Colville, Washington, crosses the finish line in style with big air during a Pro 440 race of Saturday's Heart 2 Heart SnoCross Snowmobile Race in Bondurant, Wyoming.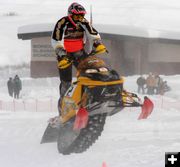 Andrew Findlay

The snocross races took place across from the Bondurant Elementary School on the Norris and Layne Brown property.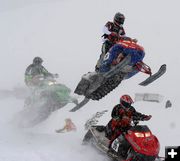 High flying snowmobiles

Brooks Green (96), Michael Schramm (24), Sam McLam (163), Aaron Collins (907 in background).

Heart 2 Heart SnoCross in Bondurant
Thrills, spills, high air and lots of action
January 22, 2006
The second Heart 2 Heart SnoCross Snowmobile Race was held in Bondurant over the weekend of January 21-22, 2006. This was the 4th snocross race of seven scheduled for Mountain West Racing (MWR).


This is the second year Bondurant has hosted the Mountain West Racing SnoCross race, offering plenty of snow when other areas in northern states have had to cancel due to lack of snow. The two previous races scheduled for January in Montana and Oregon were cancelled, similar to the 2005 chain of events. Once again, Bondurant had plenty of snow for their race, with 3-1/2 feet of powder in the picturesque valley just south of Jackson Hole. Thanks to race sponsors and Bondurant residents, Norris and Layne Brown, who built the race course on their property across from the Bondurant school.

The race was sponsored by the Jackson Hole Snow Devils, with the Sublette County Pinedale Snow Explorers Snowmobile Club selling refreshments both days.

Races included categories for Experts, Juniors age 14-15, Junior Novice, Sport 440, Semi Pro 440, Pro 440, Sport 440, Speed Ltd and Transition categories. The race drew participants from as far away as Alaska. Other states represented included Wyoming, Washington, Idaho, Montana, Oregon and Colorado.

Racers will compete in several more races in Oregon, Montana and Idaho in January and February, with the series ending at the SnoWest SnoCross/World Snowmobile Expo in West Yellowstone, Montana, March 17-19. Race results and racer profiles are posted on the MWR webstie.

2006 MWR SnoCross Schedule:
Jan. 28-29: Wallowa Mountain Thunder Challenge, Joseph, OR
Feb. 4-5: Teton Valley SnoCross, Driggs, ID
Feb. 11-12: Seeley Lake SnoCross, Seeley Lake, MT
Feb. 25-26: American SnoCross Challenge, McCall, ID
March 17-19: SnoWest SnoCross/World Snowmobile Expo, West Yellowstone, MT

Photos and story by Clint Gilchrist and Dawn Ballou, Pinedale Online! Taken during the Saturday races.