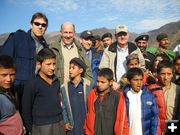 Freudenthal in Pakistan

From left to right, Texas Gov. Rick Perry, Wisconsin Gov. Jim Doyle, Arkansas Gov. Mike Huckabee and Wyoming Gov. Dave Freudenthal visit children at a U.S. Agency for International Development refugee camp in Pakistan. Photo courtesy of Claude Chafin, communications director for the Office of the Assistant Secretary of Defense for Legislative Affairs.

Governor Freudenthal visits Afghanistan
January 27, 2006
(Cheyenne) Wyoming Governor Dave Freudenthal has been touring the Middle East and parts of Asia this past week, along with the governors of Texas, Wisconsin and Arkansas.

On Thursday, the governors arrived in Kabul, Afghanistan on a Wyoming Air National Guard C-130 to meet with U.S. troops and local officials. That crew is supported by maintenance personnel from the 153rd Maintenance Squadron. While in Afghanistan, the governor was also able to meet with medical personnel from the 153rd Aeromedical Evacuation Squadron.

While in Afghanistan, the governors met with individuals working to help Afghanistan regain its agricultural economy. One of the contractors working with the U.S. Agency for International Development received his degree from the University of Wyoming in the 1970s, Freudenthal said, and remembered well many of the professors there.

The governor then met with 14 provincial governors from Afghanistan at the U.S. Embassy, in Kabul, which Freudenthal called "very interesting." Governors from both countries share similar goals, but face vastly different challenges, the governor said.

"The objective is the same, which is to figure out how to help the citizens that elected you, but they face monumental tasks," Freudenthal said. "They're trying to build schools, they're trying to figure out roads, they're interested in employment for their citizens and complaining about the central government, so it was all pretty interesting."