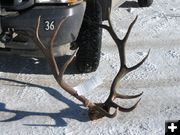 Poached bull elk

Antlers from an elk poached near Bondurant recently. A reward is offered for information leading to the arrest of the poacher. Photo courtesy Wyoming Game & Fish


Bull Elk poached near Bondurant
$1000 Reward offered for information
by Wyoming Game & Fish
December 19, 2005

(Jackson) The Game and Fish is offering a $1000 reward for information leading to the arrest and conviction of the person(s) responsible for the poaching of a bull elk along Wyoming Highway 191 near Hoback Rim southeast of Bondurant.

According to Big Piney Game Warden, Brad Hovinga, the bull elk appeared to have been shot and killed on November 15. The elk was discovered on November 17 with a gunshot wound to the head and appeared to have been dead approximately two days.

"It was pretty clear the bull had been shot from the road and there is little doubt that the shooting was intentional," said Hovinga. "It had a nice 6 x 6 point rack and would have made a legal hunter very happy." The season for taking bulls closed on Oct. 31.

"In addition to the money being offered as a standard reward for 'wanton destruction' violations, a reward may also be possible through the STOP Poaching program," Hovinga said.

Anyone having information regarding this incident should contact Big Piney Game Warden, Brad Hovinga at (307-276-3359), or the toll free STOP Poaching hotline (1-800-442-4331).