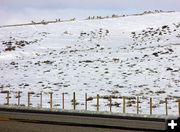 Migrating Antelope

Vehicle collisons with wildlife result in damage which costs over a billion dollars a year, according to insurance company statistics.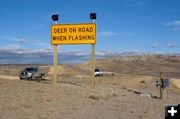 Wildlife Warning Sign

Wildlife warning signs were installed in the fall of 2005 on US Hwy 191 near Trapper's Point in Pinedale. Photo courtesy Wyoming Game & Fish and WYDOT.

Top 10 States for Deer-Vehicle Collisions
Wyoming ranks 37th
November 7, 2005
State Farm Insurance Company recently announced their Top 10 States for deer collisions, based on claim statistics for accidents involving deer between July 1, 2004 and June 30, 2005. Pennsylvania came in as #1 with the most collisions, with Michigan and Illinois taking 2nd and 3rd place.

It may come as a surprise that Wyoming didnít even come close to the Top 10, ranking 37th on the list of 50.

For insurance companies, the arrival of fall marks the beginning of "deer season". The migrating and mating season for deer across the United States usually runs from October through December -- a season that proves deadly for many deer and motorists alike every year.

According to claim statistics released in October from State Farm, which insures more vehicles than any other company in the United States, the states with the highest number of accidents involving deer between July 1, 2004 and June 30, 2005 were:

1. Pennsylvania
2. Michigan
3. Illinois
4. Ohio
5. Georgia
6. Minnesota
7. Virginia
8. Indiana
9. Texas
10. Wisconsin

According to Tamara Pachl, Wyoming Public Relations for State Farm, Wyoming ranks 37th on the list of 50 states for vehicle-deer collisions. "State Farm shows 842 vehicle-deer related collisions from May 2004 to July 2005," she said. These numbers are just for State Farm customers and claims.

The Wyoming Department of Transportation (WYDOT) just installed a series of sensors and flashing warning signs along a two-mile stretch of U.S. Highway 191 near Trapperís Point, about seven miles west of Pinedale, to warn motorists of animals on the highway to minimize collisions in the area. The project, which includes motion and presence sensors, cameras, digital video recorders and six flashing "deer on road" signs, cost $898,000. The 30-mile stretch of highway which includes Trapper's Point has the highest collison rate in the state, based on WYDOT statistics.

According to State Farm, there are 1.5 million vehicle-deer collisions that take place across the United States each year. These accidents kill more than 150 motorists each year and result in more than $1.1 billion in vehicle damage.

Related Links:
Wildlife warning flashers now operational
State Farm