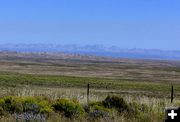 Line of Haze

A line of haze hovered over the natural gas fields in the Upper Green River Valley on Monday, August 29th.

BLM Jonah Air Quality Report
Supplemental report for Jonah EIS
August 30, 2005
Earlier this month, the Bureau of Land Management (BLM) Pinedale Field Office published the results of a supplemental air quality report as part of the Jonah Infill Drilling Project Environmental Impact Statement.

"The BLM incorporates the best science available to guide our decision making process," said Prill Mecham, BLM Pinedale Field Manager, in the BLM's press release. "The good news from this air monitoring report is that the Pinedale area does not have air quality problems associated with suspended particulates or pollutants like nitrogen dioxide or sulfur dioxide, nor should those be problems in the future. Visibility remains an issue that we need to address."

Air quality refers to concentrations of particulate matter, or pollutants. According to the report, the air quality is good. Visibility refers to the number of days the view is hazy, or the number of miles an observer can see. In this case, visibility models indicate that there may be a noticeable change in visibility over several days per year.

The air quality report and model was a joint effort by the BLM, the Wyoming Department of Environmental Quality (WDEQ) and the Environmental Protection Agency. The WDEQ has regulatory authority to maintain air quality in the state.

The Jonah Infill Drilling Project Area (JIDPA) is a proposed modification of the original natural gas development project on leases held by EnCana Oil and Gas (USA), Inc., BP America Production Company and other natural gas operators. The project proposes to expand natural gas drilling and development operations within the existing boundaries of the Jonah Field in south-central Sublette County, Wyoming, approximately 32 miles southeast of Pinedale. The JIDPA encompasses approximately 30,500 acres. Three prior NEPA documents analyzed the present activity.

The air quality report is available on the BLM website at www.blm.gov/nhp/spotlight/state_info/planning/wy/index.htm or at the BLM Pinedale Field Office at 432 East Mill Street.

Public comment on the air quality report will be accepted through October 7, 2005: Pinedale Field Office, PO Box 768, Pinedale, WY 82941. Phone: 307-367-5300, Fax: 307-367-5329.