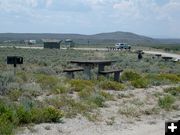 Warren Bridge Campground

Warren Bridge BLM Campground is next to the Green River halfway between Pinedale and Bondurant on Hwy 191.

BLM seeks Campground Host
March 16, 2005
The Pinedale Bureau of Land Management (BLM) office is seeking applications for people interested in serving as the Campground Hosts this summer for Warren Bridge Campground. This is a volunteer position that pays a stipend of $12/person/day and requires a commitment of approximately mid-May to September 30th. Hosts get their own RV camp space which has free electric hookup, waste dump and propane gas. Duties include overseeing the daily use of the campground, assisting visitors, fee collections, minor maintenance, day use area and waste dump station.

Warren Bridge Campground is located about 20 miles north of Pinedale on Highway 191 between Daniel and Bondurant. The campground is on the banks of the Green River and has 16 fee units. Hosts work 5 days a week. Must be pleasant and people oriented, able and willing to deal with people from many different backgrounds and cultures who might stay at the campground for day use or overnight. Will come in contact with people who have questions about the local area and places to go to recreate nearby as well as visitors just passing through the area.

Warren Bridge Campground is situated in the rolling high desert sagebrush plains of the Upper Green River Valley. Although there are no trees at this site, the Green River is adjacent to the campground and offers great fishing opportunities just a few steps from the campground. Wildlife is often seen in the area. Three mountain ranges (Wind River, Wyoming, Gros Ventre) and two wilderness areas (Bridger and Gros Ventre) are located nearby. The area offers great fishing, hiking, photography and many outdoor leisure activities. The Green River and valley area are tremendously important historically from the era of the Rocky Mountain fur trade, and this campground is very near the location of the Green River Rendezvous sites of the 1830s.

The BLM is hoping to find someone who can be the host for the entire summer. For more information on the web see http://www.wy.blm.gov/pfo. Contact Martin Hudson, BLM Outdoor Recreation Planner at the Pinedale BLM Field Office for more details about this opportunity, 307-367-5315, e-mail: Martin_Hudson@blm.gov. Anyone interested in applying for the Warren Bridge Campground host position can apply online at www.volunteer.gov (search on Warren Bridge, location=Wyoming).