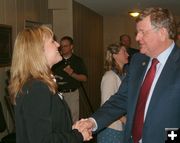 Kathy Sechrist

Kathy Sechrist shakes hands with Wyoming Governor Dave Fredenthal.


Kathy Sechrist honored by Governor
One of 40 Outstanding People of Wyoming
by Sublette County Chamber of Commerce
February 28, 2005

Governor Dave Freudenthal honored the 40 outstanding people of Wyoming under 40. Sublette County's Kathy Sechrist of Boulder was selected to this elite group which was chosen based on outstanding and significant contributions to their communities in Wyoming. Nearly 120 people from all over Wyoming were nominated. The 40 honorees were chosen by a selection panel of 8 statewide leaders.

"The 40 under 40 program was established to focus on the fantastic people that are really making a difference in Wyoming" said Nathan Bekke, publisher of the Casper Star Tribune. The event was sponsored by the Casper Star Tribune and the Wyoming Business Council.

Kathy was recognized for her efforts as director of the Sublette County Tourism Promotion Board and the Sublette County Chamber of Commerce. The Sublette County Chamber was the fastest growing Chamber in Wyoming in 2004.

Kathy said, "It was a huge honor to be recognized in the inaugural 40 under 40." Although she is 40 years old, the selection panel made an exception for people 40 and under because they were so worthy of being recognized, according to Bekke. "I am looking forward to the challenges ahead to further the goals of the Tourism Board and Chamber. Raising awareness of Sublette County to a higher level within our state and industry," commented Kathy. Her goal for the future was increased economic benefit from tourism and economic diversity to sustain Sublette County's future.

The entire 40 under 40 award recipients and their biographies were highlighted in the February 27th issue of the Casper Star Tribune.