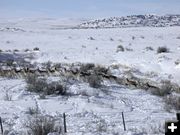 Antelope in deep snow

Drivers are alerted to watch for antelope, and other big game animals, that are often found next to roadways during the winter. Wyoming Game & Fish photo.

Watch for Wildlife on Roads
January 18, 2005
Wyoming Game & Fish officials are alerting motorists to be on the watch for big game wildlife along roads finding food and crossing roads creating a potential hazard situation for motorists. Heavy snows and fence barriers are creating a situation where antelope, deer, and elk are moving on, or alongside, local roadways to find food.

Motorists can expect to see wildlife along local roads throughout the winter. Animals will move to more dispersed areas when the weather improves. As warmer temperature melts the snow, there is more available feed in other areas. Animals need to maintain their body fat reserves in order to survive the winter.

Kemmerer game warden Chris Queen says motorists on US Highway 189 and US Highway 30 should reduce their speed and be alert for game animals on the road. "Antelope are crossing US Highway 189 South near mile post 25 near Bon Rico," says Queen. "Antelope are also foraging near mile posts 63 and 64 on US Highway 189 North. Elk have been foraging near mile posts 70 and 73 on 189 North."

Queen says deer foraging near the road can be expected all along US Highway 189 North of Kemmerer, especially between Slate Creek and La Barge. "Traffic has been moving way too fast, despite the current icy road conditions and game crossing warning signs. Those highway signs warning motorists to slow down are there for a good reason. Itís winter; and this winter is making life tough for your local game herds. Slow down and expect to see wildlife on the road."

Eight antelope were hit and killed by commercial trucks using the ĎHaul Roadí, across from the Carter exit, on US Highway 189 South. Four deer were hit by a vehicle and killed on US Highway 30, one mile east of Opal. Big game animals are most active during the early morning and evening hours.

By slowing down and being alert Queen says motorist can help protect themselves against accident or injury, as well as allow the game to move on safely. "We are concerned with human safety first, then the animalsí safety. We donít want anyone to get injured or killed hitting an animal, not to mention the damage to the vehicle that occurs."

"If you are out recreating on the snow and come upon any game herds, do not follow them. Give them plenty of space. If you chase after them, they waste precious fat reserves and will not survive the winter."

The Wyoming Game & Fish Dept. cautions motorists to reduce their speed, observe any wildlife crossing warning signs, and be alert for wildlife on any roadway across the state.