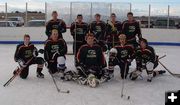 Pinedale Midget Team

The Pinedale Glacier Midget hockey team poses after their games in Douglas this past weekend.


Midget Hockey Team Plays at Douglas
by Craig Sheppard
January 10, 2005

The Pinedale Midget, high school age, hockey team traveled to Douglas this past weekend to participate in their first weekend of Wyoming Amateur Hockey League (WAHL) action. This young team (no seniors and only two juniors) jumped into action against two of the top Midget B teams in the state (Douglas and Sheridan).

They lost their first game on Saturday to Sheridan 8-1. This tough Sheridan team returned all players from their last year's 3rd place state team. That team beat Pinedale by one goal last year at state to gain the third place trophy. This game Pinedale had five penalties to Sheridan's only two penalties, which didn't help the young Glacier's cause. Scoring for Pinedale was Josh Murphy assisted by Drew Guenther and Nate Olsen. Chris Manning in goal for the Glaciers had a busy morning stopping 34 of 42 shots.

Douglas' ice went down in the afternoon due to a compressor problem and high winds, so the game scheduled for 6 PM had to be postponed until 9:30 that night. Once again the Pinedale team was to meet up with a strong state championship contender – Douglas. But the Pinedale team scored first on a goal by Nate Olsen, assisted by Drew Guenther and Jake Hunt. Douglas then came back and scored the next two goals to be up by one. Undaunted, the Pinedale team tied the score going into the last seconds of the first period with a goal by Jake Hunt assisted by Drew Guenther and Nate Olsen. The second period saw an inspired Douglas team with a huge and vocal hometown crowd come out strong. They scored four quick goals and never looked back in their 8 to 2 win over Pinedale. Chris Manning, once again had a strong showing in net facing 47 shots. Positive outlook on this game was that Pinedale only took 3 penalties with Douglas heading to the "sin bin" seven times.

The 7 AM game the next day against Cheyenne came upon the players way too fast. Even too fast for the coach and parents, but the Pinedale Glacier's came to play. They scored the first goal and finally had a big offensive outbreak. They scored nine goals to Cheyenne's two. Josh Murphy led the scoring with 3 goals (hat trick) followed by Drew Guenther's two goals and 1 assist, Nate Olsen's 1 goal and 1 assist, Preston Schwab's 1 goal and 1 assist, John Colton's 2 assists, Jake Hunt's 1 goal and Wes Schwab's (an 8th grader) 1 goal. Chris Maning had an easier time in net this game with our defense stepping up and only allowing Cheyenne to take 16 shots on him. Pinedale once again kept their emotions in check and only had four penalties to Cheyenne's ten.

Only two hours later the Pinedale squad was to have a rematch against Douglas. With the late night game, and the early morning game, the Sublette County boys were showing a little wear and tear. Douglas scored two quick goals in the first two minutes of the game before Drew Guenther for Pinedale scored an unassisted goal. Then Douglas poured it on, scoring 7 unanswered goals. Pinedale lost 9-1. Chris Manning was back at work at goal having to face 54 shots during the game. He ended up facing 159 shots for the weekend. Pinedale played a clean game with only picking up 3 penalties to Douglas' 8 infractions.

Players this last weekend were John Colton, Drew Guenther, Jake Hunt, Nick Jones, Chris Manning, Josh Murphy, Nate Olsen, Preston Schwab, Wes Schwab and Daniel Yenser. The Pinedale team is coached by Jeff Lewis, Craig Sheppard and Mike Schwab.

This young team grows with each game. Their goal is to make the playoffs which will be played in Pinedale March 11-13. They travel to Cody this weekend for two more tough games against Cody and Gillette.




Related Links