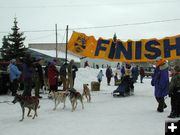 Pinedale Finish Line

Pinedale Stage Stop of the International Pedigree Stage Stop Sled Dog Race (IPSSSDR) in 2004. Photo by Pinedale Online.

IPSSSDR starts Friday Jan. 28th
Pinedale sled dog events Sunday-Monday
January 26, 2005
The 2005 IPSSSDR begins in Jackson on Friday. This is the race's ten-year anniversary run, which will last for eight days traveling through Wyoming and into Utah. The race begins Friday, January 28, in Jackson, and ends in Park City, Utah, on Saturday, February 5. The Pinedale Stage Stop leg is the third stop of the race, from Sunday, January 30th to Tuesday, February 1st. Other host towns are Lander, Pinedale, Kemmerer/Diamondville, Evanston, Lyman/Mountain View, and Alpine, with the finish and final stage and awards ceremony in Park City, Utah.

The race is run in a unique "stage" format, rather than continuously. Teams stop in a different town each night. Ten towns are designated official "Stage Stops", and host special events in their communities to celebrate the arrival of the teams and their own legs of the race. Festivities include a torchlight parade, pig roasts, bands, fireworks, snowman contests, snowshoe softball, special dinners and pancake feeds.

Pedigree® Food for Dogs is the title sponsor of the IPSSSDR. The dog-friendly nature of the IPSSSDR is one of the prime reasons the brand has chosen to support this national competition. Pedigree will support local pet adoption efforts during the IPSSSDR with a donation of pet food to animal shelters on the race route.

The International Pedigree Stage Stop Sled Dog Race was founded in 1996 by Frank Teasley to make sled dog racing more accessible to the public. For more information, visit the race website at www.wyomingstagestop.org. Contact the race via e-mail at wystagestop@blissnet.com or telephone at (307) 734-1163, or visit www.pedigree.com.