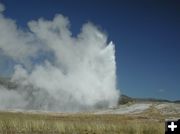 Old Faithful

Old Faithful geiser erupts in Yellowstone National Park. Pinedale Online photo.

EA for Old Faithful Visitor Education Center
To be located near Old Faithful geiser
January 24, 2005
Yellowstone National Park officials announced that the Old Faithful Visitor Education Center Environmental Assessment, Yellowstone National Park is available for public comment for 45 days. Comments may be submitted through March 10, 2005.

The National Park Service (NPS) proposes to build a new Visitor Education Center at Old Faithful in Yellowstone National Park. More than 3 million visitors come to Yellowstone each year, and most visit the Old Faithful area. The present visitor center is too small and cannot accommodate the nearly 25,000 daily visitors in the summer, nor is there space for any exhibits. Visitors leave the Old Faithful area without a basic understanding of or appreciation for the complexity and interconnected nature of the geysers they see or the volcanic activity that defines Yellowstone National Park.

The preferred alternative would site the Visitor Education Center in the same location as the current visitor center. The new Visitor Education Center would include adequate orientation and educational exhibit spaces, an auditorium, classroom, research library, educational bookstore, and backcountry permitting office. The current visitor center, restroom building, and the two adjacent satellite theaters would be removed, and functions that currently occur in these three buildings would be consolidated into one 33,000-square-foot (approximate) structure. The new building would be designed to be compatible with the signature rustic architectural style of the Old Faithful Historic District. Construction is proposed to begin in spring of 2006.

Comments on, and requests for, copies of the Old Faithful Visitor Education Center Environmental Assessment, Yellowstone National Park may be sent to: Planning Office, P.O. 168, Yellowstone National Park, Wyoming 82190. The environmental assessment may also be viewed or downloaded from the internet at: www.nps.gov/yell/technical/planning.