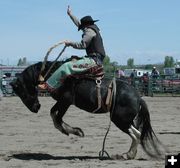 Saddle Bronc Rider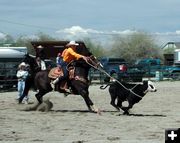 Calf Roper

Pinedale High School Rodeo
by Clint Gilchrist
June 5, 2004

High School cowboys and cowgirls from all over the State of Wyoming were in Pinedale on for the Pinedale High School Rodeo this weekend. The cutting competition was held on Friday evening at the Steve James Arena in Daniel. The rest of the rodeo was held at the Pinedale Rodeo Grounds on Saturday starting at 8am and lasting through most of the afternoon.

The event was hosted by the 2004 Pinedale High School Rodeo Club. The Club is lead by President Clayton Shelby. Clayton is currently ranked #1 in the State of Wyoming in Saddle Bronc Riding. He placed 1st in the state last year and went on to place 2nd at nationals. The other officers of the club are Vice President Sara Amerine, Secretary/Treasurer Andi James, Arena Director Sam Nelson, and Historian Andi James. Other members include Cody Wright, Kaitlin Torman, Justin Kaan, Wes Licking, Warren Koppenhafer, and Sunny Raper.