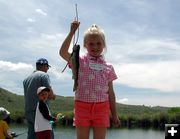 Jamie's Fish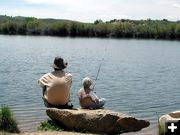 Fishing with Dad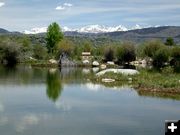 CCC Ponds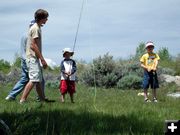 Fly Casting Lessons

Kids Fishing Day
by Clint Gilchrist
June 5, 2004

Saturday June 5, 2004 was the annual Kid's Fishing Day at the CCC Ponds near Fremont Lake. The event is held in conjunction with National Fishing and Boating Week to show kids the fun of fishing and teach them how to fish. Clinics for the kids include spinning casting, fly casting, hook baiting, fish handling, fish ethics, knot tying, fish habitat and fish identification. Once they have finished training at the clinics the kids are taken to the CCC ponds for real fishing under the guidance of parents and volunteers. No matter where you are on the ponds, you can always hear those words yelled in excitement, "I got a bite, I got a bite!" These are often the first fish for these young fisherman, but they practice catch and release, and will likely go on to catch many more as they get the fishing bug. Free lunch and refreshments were provided.

The Civilian Conservation Corps first built the CCC Ponds near the south end of Fremont Lake in the 1930s. About 11 years ago a committee of government agencies, organizations and individuals combined efforts to turn the old CCC Ponds into a cultural and recreational area. Now the ponds offer a great place for the young to first learn fishing. But the ponds also provide great habitat for many types of trout as well various birds, beaver, deer and a variety of trees. Located at the end of the Pinedale Bike Path, the ponds also provide recreation and a get away for bikers, joggers and walkers.

The US Forest Service, Wyoming Game & Fish, Bureau of Land Management, and the Upper Green River Chapter of Trout Unlimited sponsor Kids Fishing Day.




Related Links