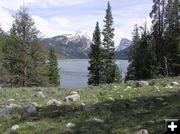 Green River Lakes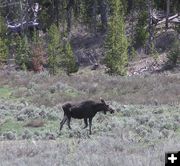 Moose along the way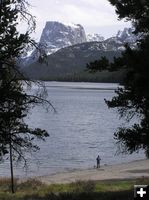 Fishing the lakes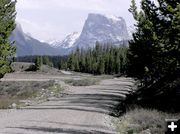 Breathtaking view from road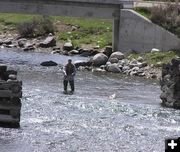 Fishing the Green

Green River Lakes road is open!
by Dawn Svalberg
May 16, 2004

The road to Green River Lakes is open all the way to the campground! Based on our drive up on Sunday, May 16th, here's what the conditions are. The main road in is dry and appears to have been graded at least part of the way. This may be the best this road gets before summer traffic creates washboards again. The road into Whiskey Grove campground is free of snow and dry. This is a pretty little campground! Not real big, 8 or 9 spots, but tucked right next to the Green River in a nice grove of fir trees. Wildflowers are blooming and some of the campspots already have firewood neatly stacked by the campfire pits.

The dirt road into Dollar Lake is dry and the parking is firmed up. Fishermen have already made their way there. Some remnant snowbanks still exist on the shady shore, but access is good all around the lake. The Union Pass road has melted off and dried up for as far as we could see from the main road, but we didn't drive up it. Judging by the snowline at Green River Lakes, we're pretty sure there's still snow blocking the way over this road yet. Looks like the little side access roads to the Green River are firmed up for the most part. No more mud than a rainy day might cause. Some of the river access camping spots near the end of the road up closer to the lake might be a bit soft yet to pull into, especially on the northern aspects, so scope them out first before driving onto them.

The Green River Lakes trailhead access parking and corrals are all accessible. The trail is free of snow on the sunny side of the lake, but we didn't have time to actually hike it to see if it is wet or the condition for horse use yet. If anyone has been up further on the trails in this area, please drop us an e-mail note and let us know what the conditions are like further up for hikers and stock use.

The Green River Lakes trip makes a wonderful day outing! This drive is one to plan for a whole day to do it right and not be rushed. It's about a 50 mile one way trip from Pinedale, with half of that on paved highway and the other half on good gravel/dirt road. Sedans and RVs should have no trouble on this road now. This trip takes about an hour and a half to get up to the lakes if you don't stop much to take pictures of all the critters you'll likely see along the way. We saw antelope, two moose, a wide variety of waterfowl, and several pairs of sandhill cranes. We didn't encounter any mosquitoes or biting bugs out there yet.

The restrooms at the forest boundary (20 miles up) and at Green River Lakes campground (40 miles) are open (but may not have TP). In just a couple of weeks the summer season will be in full swing and the Forest Service will have all the campgrounds fully operational with full services. Green River Lakes and New Fork Lakes campgrounds will both have campground hosts onsite.

For those not familiar with what 'full services' are, that means garbage dumpsters, potable water, and campground hosts. None of our campgrounds have electricity, shower facilities or sand-filled tent pads on which to pitch tents. Cell phone reception often is not available. Camping spots have picnic tables and constructed fire pits. Some spots have RV pull throughs, but there are none with RV dump facilities. Water is shared access with spigots placed between every few campspots. Restrooms are vault toilets. Green River Lakes campground has several group camping areas for group functions-plenty of parking and lots of picnic tables nearby. Contact the Pinedale Ranger District about reservations for those, 307-367-4326.

If you are itching to get out to Green River Lakes and see beautiful Square Top Mountain again, the road is open!




Related Links