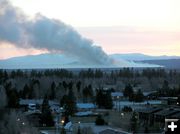 The Big Cora Burn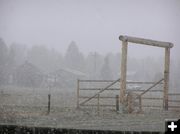 April Spring Snowstorm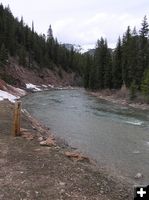 Hoback River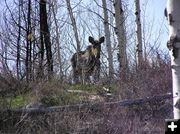 New Fork Moose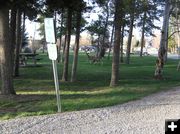 Town Park Deer

Pinedale Drift
What's it like in Pinedale right now?
by Dawn Svalberg
April 26, 2004

April is a very unsettled month as spring tries to push out winter, but winter still has some say in the matter. Some folks thought fire season was here already from the smoke column 'The Great Cora Fire' put out last evening west of Pinedale. This was a controlled burn by local firefighters. We'll see more of these from ranchers burning brush and government agencies doing these controlled spring burns for habitat improvement. Hopefully they will stay controlled. Last night's burn looked like it got pretty hot even for just a field burn and the thick smoke blew right across Hwy 191 at dusk. If you aren't sure about a smoke column, go ahead and call it into either the Sheriff's office or Forest Service. Better safe than sorry. No doubt real wildfire season will be here soon enough with as dry as it is already. We can expect fire restrictions in the backcountry again this summer.

We have many warm wonderful days with temperatures in the 60s, then WHAM a winter snowstorm and blizzard hit and changes everything back to winter for a day. We'll get lightning and hear thunder in the middle of a whiteout snowstorm which will drop an inch of snow that disappears 2 hours later. The locals are already wearing shorts and t-shirts and complaining that it is hot, while the obvious out-of-towners are huddling in coats. There is an excitement in the air as the weather greatly improves, our 'snowbird' residents return, and the great outdoors opens up so we can go fishing, hiking and camping again. Read our reports on current conditions for Skyline Drive, Fremont Lake, New Fork Lake, and Green River Lakes road. This summer is full of fun events including the Pinedale Blues June 19th, the Green River Rendezvous July 8-11, and a new one called the Pinedale Half Marathon which is scheduled for September 25th.

WEATHER
April is a very unsettled month. One day it is spring, the next tries to bring back winter. We get thunder and lightning at the same time it is blizzarding. Weird, but it does this every year in April. May will bring spring in full force and everything in bloom. Right now, daytime temperatures are more consistently making it into the 60s, with chilly nights. The Forest Service and ranchers are already starting spring burns, so don't panic if you see some healthy smoke columns in the next couple of weeks. Real wildfire season will be here soon enough. Green leaves are starting to show up on bushes, but not the trees yet. No sign of spring bulbs like daffodills or tulips, but we saw yellow buttercups and purple phlox wildflowers over the weekend on our outings by Fremont & Half Moon Lakes and up the Green. The sandhill cranes and loons are back. Antelope and deer by the hundreds have once again managed to negotiate the dreaded migration corridor bottlenecks and found their way to the Upper Green. They look ready to drop fawns at any time. April is also nice because we can get out and hike and fish without fighting mosquitos or biting flies yet. And from the reports we're getting, the fishing on the lakes is awesome. The fish are big and hungry! Soda Lake opens May 10th. The golf course is already open and the Mountain Man Museum opens May 1st for the season.

SCHOOLS
Pinedale schools get out June 4th. Senior graduation is Friday, May 28th. Motels are already pretty filled because of the oil & gas field workers. So if you have a clan coming for graduation, encourage them to get their lodging reservations ASAP. High school track is in full swing. Big Piney held their Invitational Saturday. You can see pictures from the day's events on the Big Piney web site, www.bigpiney.com. You can find current event and activity information for the Pinedale schools on their web site, www.pinedaleschools.org

BUSINESSES
Business is booming in Pinedale and some places are even opening up a bit early. The Sugar Shack opened up last Wednesday, which means winter is officially out of here! McGregor's Pub is under new management and is sprucing up inside and out, planning on reopening in early May. Wind River Pizzeria has reopened. They have limited seating now and are doing mostly take out pizza. They also have 'Mexican Monday' and 'Chinese Tuesday'. The Senior Citizen Center construction progress is incredible. That is going to be a NICE facility! If you haven't been to the Sublette County Courthouse lately, you'll find things shuffled around and a number of offices in new locations. The Sheriff's office is out of the trailer and is now accessible from their old Tyler Street entrance. That will also get you to the new Assessor's office and District Court. Other offices are being shuffled to the old NAPA building next to Pinedale True Value while their sections get renovated in the courthouse building.

EVENTS
This summer is full of fun events including the Pinedale Blues Festival June 19th, the Green River Rendezvous July 8-11, and a new one called the Pinedale Half Marathon which is scheduled for September 25th. Michael Terry and Fred Gowans will be back for Rendezvous Days. See our Calendar of Events page for an updated listing of events. We try to keep this as current as possible and post dates and info as soon as we get it for events. A note about lodging for anyone planning on coming for an event, family reunion, wedding, or just a visit-especially for anything in July. Be sure to make your lodging reservations NOW. Many of our motels are already booked up for a couple of weeks in July, our heaviest month for events. The oil & gas industry has taken up a lot of available rooms to house their workers, so there is a shortage. You'll find yourself scrambling for a room if you wait until you get here to find a place to stay during the busy summer months. See our business directory for links to motels, bed & breakfasts, guest ranches, and cabins. Also, contact the Sublette County Chamber of Commerce, 307-367-2242, www.sublettechamber.com, for more info. This also applies to you fall hunters. It's a really good idea to make your reservations now for your lodging, guide services & meat processing for your fall hunt.

GETTING OUTDOORS
Last note about summer season. It's important for visitors to realize that we are high elevation here. Pinedale sits at 7,100 feet. The Wind River mountains and Bridger Wilderness get up to 13,000 feet. Most major trailheads are at about 9,000 feet plus. That means summer doesn't come to the high country really until July and August. If you are planning a late May/June trip, be aware you may still be hiking in snow with high water crossings and wet trail conditions. Despite that, wildfire season could start in June because it has been so dry in some areas. If you are planning a trip to the high country, be sure to plan for all kinds of possible weather conditions even in the summer, including an unexpected winter snowstorm. Count on afternoon thunderstorms with lightning and rain downpours. Campfires restrictions are likely during July and August in the backcountry, so be sure to plan for alternative fuel stove cooking methods that don't rely on campfires. We'll keep you posted on that very closely.