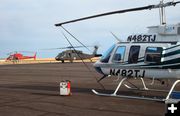 Search helicopters

Search helicopters, clockwise from top left, include an A-Star 350 B3, A Wyoming Army National Guard UH 60 Blackhawk and a Bell L-4. The helicopters are using Lander's Hunt Field general aviation airport as their base for search operations. Photo courtesy Fremont County Sheriff's Department.


Still no sign of missing plane – search continues Sunday, Oct. 31
by Fremont County Sheriff's Department
October 31, 2010

LANDER, WYOMING
SUNDAY AFTERNOON UPDATE:
By late afternoon Sunday, there were no new developments in the search for a missing light plane from the Twin Cities area. The plane dropped off radar six days ago over a rugged area of northwest Wyoming's Wind River Range. Officials at the Incident Command center at Lander's Hunt Field Airport were awaiting the arrival of ground crews and a Civil Air Patrol flight for debriefing.

"We've had people out on the ground and in the air all day, and now we're waiting for them to come back," said Operations Chief Jason Aanestad. "The CAP flight is attempting to reevaluate the integrity of the emergency locater transmissions coming from the nine-square mile search area," he said. Aanestad said the ground teams have been performing grid searches in an attempt to find clues to the missing plane's disappearance.

The weather at 3:00 p.m. Mountain time was beginning to close in on the search area, and plans were underway to extract the ground searchers. A fast moving weather system Saturday prevented the extraction of two ground teams, which spent the night in the search area.

"We really won't know where we are until these teams are debriefed, and then we'll make our plans for Monday," Aanestad said.

SUNDAY MORNING UPDATE
Poor weather conditions Saturday evening resulted in two ground teams spending the night at an elevation of 10,000 feet in the primary search area on the fifth full day of searching for a missing light plane with a Minnesota family on board.

"We tried to extract the teams by helicopter, but the weather closed in and they had to spend the night," said Incident Command Operations Chief Jason Aanestad. "Our plan this morning is to insert a fresh ground team and bring out the other two teams for a debrief."

As day six of active searching begins, no physical evidence of the missing aircraft has been found. At the Incident Command center Sunday morning at Lander's Hunt Field Airport, fresh snow was visible on the peaks of the Wind River Range.

Saturday night one ground team was successfully extracted and they reported that they were nearly "socked in" with "blizzard like conditions" at the landing zone. The extraction was performed by a Wyoming Army National Guard Blackhawk helicopter that replace a U.S. Air Force Huey earlier in the day.

The weather cleared overnight and today searchers are looking at mostly cloudy sky conditions with daytime temperatures in the high 20's. The weather, however, is expected to close in again late Sunday afternoon.

"Our plan today is to continue a grid search by helicopter and our ground teams as we look for clues to the missing aircraft," Aanestad said.

The aircraft, a 1977 Mooney model 20-J, disappeared from radar about one hour after taking off from the Jackson Hole airport in a snowstorm, bound for Riverton en route to the Twin Cities. The plane contained four members of a Minneapolis-area family.

Searchers were buoyed Saturday when messages of prayers and support directed at the search team and their families were received. The messages came from friends and colleagues of the missing family members. "I wish we could go out again right now," said ground searcher Andy Basset after reading the bundles of hand written notes. Basset and three other ground team members had just been plucked from a blizzard and returned to the Incident Command Center.