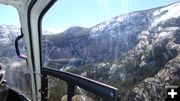 View from chopper window

Photo from the cabin of one of the search helicopters Thursday afternoon illustrating the varied and difficult terrain of the search area. Photo courtesy Fremont County Sheriff's Office.


Missing aircraft still lost in Wind River Mountains
Search focusing on wilderness area east of Gannett Peak
by Fremont County Sheriff's Department
October 29, 2010

There were no new developments today (Friday, October 29) in the search for a single-engine aircraft missing in Northwest Wyoming's Fitzpatrick Wilderness Area since Monday. Searchers received a break Friday morning when weather moderated allowing additional aerial reconnaissance of a nine-square-mile search area. However the exact location of an emergency transponder signal presumably from the missing aircraft remained elusive.

"We also had three teams of ground searchers using hand-held signal detection finders in the field, but the source of the transponder signal has not yet been pinpointed," said Detective Sergeant Ryan Lee of the Fremont County Sheriff's Department. "The search area is in extremely remote and rugged country and the progress of the ground teams has been limited by the terrain. The task of finding the location of the transponder is also made more difficult because of the shadow effect of the signal, bouncing off of boulders, cliffs, outcroppings and canyon walls."

The area being searched includes the location where the aircraft dropped off radar screens plus the ridges and drainages east of that point, in the direction the plane was heading. Searchers are working in an area between 11,000 and 12,000 feet in elevation. The terrain includes heavy timber and boulder fields along the drainages, very steep canyon walls and windblown ridge tops laced with side canyons and crevasses.

Incident Commander Chip Williams said the aerial reconnaissance involves retracing flight search patterns at different times of the day, allowing spotters to see the terrain below in different light conditions as shadows move and previously shadowed areas become visible.

The missing aircraft was carrying four members of a Minnesota family. The plane disappeared Monday on a flight from Jackson Hole to Riverton en route to the Twin Cities.