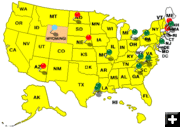 50 State License Plate map

States that have been found are colored yellow. Missing states are white. As of the date of this article, we still need to find Delaware, Maine, Massachusetts, and West Virginia.


Delaware, Maine, Massachusetts, West Virginia – where are you…?
50 State License Plate Survey
by Dawn Ballou, Pinedale Online!
November 10, 2009

We began our "50 State License Plate Survey" in 2002 as a fun way to see how many people come visit, or pass through, our little town each summer. The survey has become a tradition for Pinedale Online, and we've heard from many people who say they enjoy this as one of their family traveling activities where they live as well. We post our sightings throughout the year on a map on this page on Pinedale Online: http://www.pinedaleonline.com/50states.htm

It's getting late in the year and we're still missing four states: Delaware, Maine, Massachusetts, and West Virginia.

Delaware is always a really tough one to get, and has eluded us as our last missing state on more than one year. We did get a great write-in comment in August this year from Debby who offered her "virtual" Delaware license plate for our survey, so we put up a green pin on our map for her!

As we move into mid-November, we confess we are getting a bit desperate, and hate to not get a full sweep of all the states on our map. So we're writing this article to ask 'Pinedaliens' to keep their eyes open for these last four states and please let us know if you spot them in town. If you do, please e-mail support@pinedaleonline.com, or phone/text us at 307-360-7689. We have until December 31st to finish off the map!

Thank you to everyone who has joined in our survey and sent us your notes and stories! The survey is always great fun and we truly enjoy all the wonderful people who visit and write us each year from all over the globe.